Teleconference is a type of remote meeting through specialized telecommunication means. Teleconferencing primarily means communication between numerous users at a distance, united by a common topic or issue. There are several ways to join a teleconference. The most common way is to dial a phone number and then enter a passcode. You may also be able to join a teleconference from your computer by using a web browser.
Individuals participating in a teleconference can typically see and hear one another as if they were in the same room, allowing for real-time interaction. This technology is often used in business video conferencing settings, as well as in classrooms for online learning.
Types of Teleconference
Audio Conferencing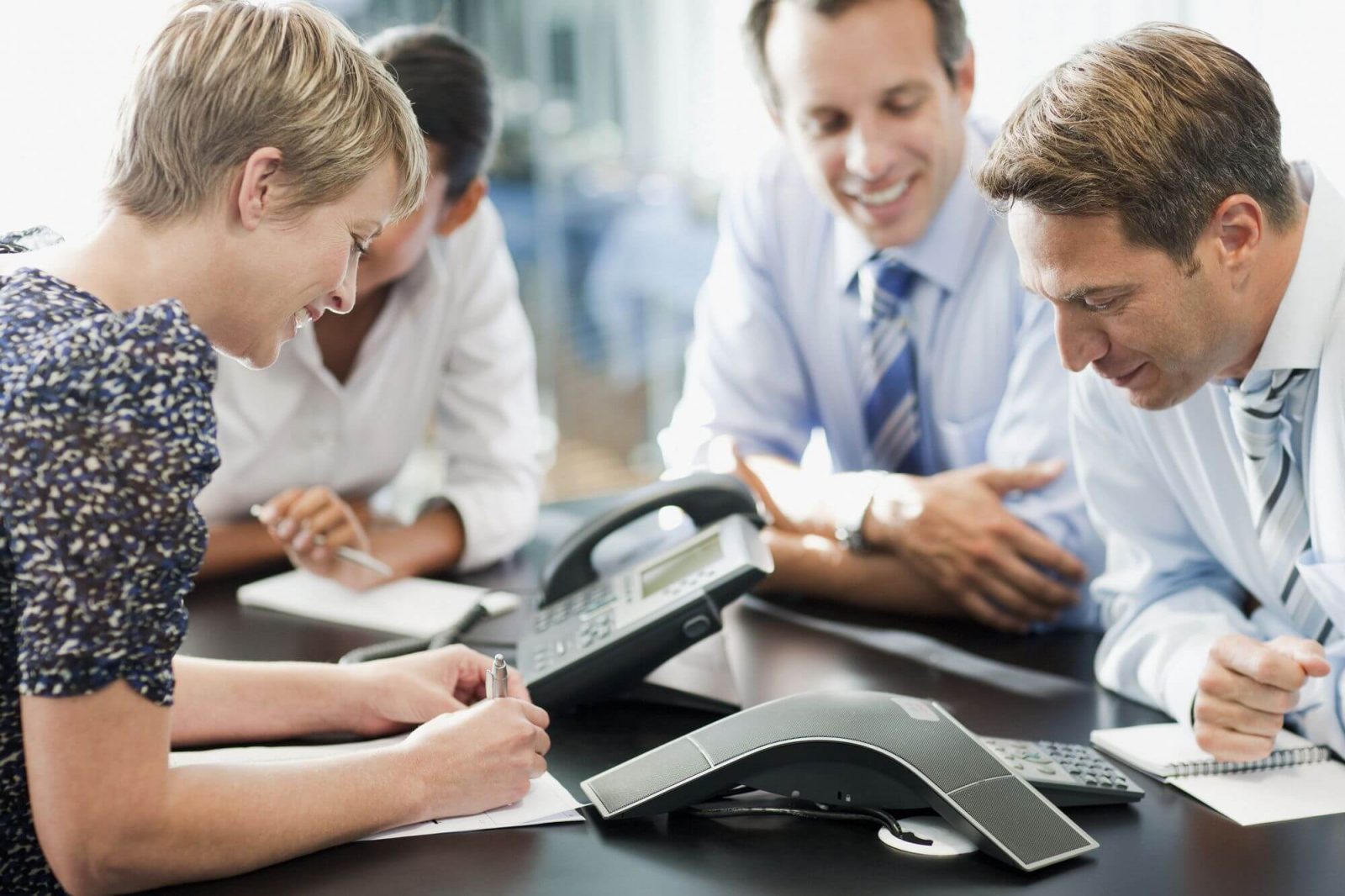 Audio conferencing is the process of using communication channels to organize a conference in which audio signals between three or more subscribers are transmitted simultaneously.
Choose the right type of audio conference system for your business. The most important thing to know about setting up an audio conference system is that there are three basic types — distributed, local and integrated. Choosing the right one is dependent on who you want to talk to, where they're located and how many people you want in the room.
Distributed (remote) audio conferencing brings together several participants in different locations. Local audio conferencing unites several participants in one location (conference or meeting room). Integrated audio conferencing connects remote and on-site participants.
It's no secret that video conferencing has transformed the way we work. However, there are times when video isn't always the best option for your business. When you aren't able to attend a meeting in person or don't have access to video conferencing options, audio conferencing could be a great alternative.
Video Conferencing

Video conferencing is a visual communication session between two or more users regardless of their location, featuring audio and video content transmission in real time.
In broad terms, video conferencing software is a solution that allows two or more persons to talk and see each other remotely. Initially, video conferencing software only enabled users to make video calls or hold group video conferences. However, as technology advanced, video conferencing software acquired plenty of helpful tools and features for remote communication and learning.
Today, video conferencing is rather a tool for integrated into video collaboration and unified communications platforms that also offer screen sharing, slideshow, recording, instant messaging, project management tools, telephony integration among other features. As an increasing number of companies switch to remote work, video conferencing is gradually becoming the new normal, shaping the way we communicate, learn and work. Even if you run a coaching business, you should make use of video conferencing tools to get in touch with clients when you cannot meet them in person and hold online sessions.
Web Conference
Web teleconferencing (or webinars) is an interactive teleconference platform that delivers visual information coded in graphics, video, audio, documents and alphanumerics. Webinar differs from traditional web-conferences because it involves a single speaker and numerous listeners. Therefore, in contrast to solutions for web conferencing, where participants usually have equal rights and tools, webinar services allow the speaker to fully manage the online meeting, and participants by default can only watch, listen and write messages in the chat.
As a business owner, you're always looking for ways to expand your network, learn new skills, and grow your company. Whether you're a digital marketer, technology expert, or business coach, attending web conferences can be an affordable and impactful way to make new connections that could lead to new clients or partnerships.
How does teleconferencing work?
Audio conferencing
Video conferencing
Web Conference
In an audioconference, the people who wish to confer with one another dial into a conference bridge, which is a phone number that connects to a special telephone switchboard that can handle multiple simultaneous telephone conversations. Once connected, the audioconference participants can chat with one another as if they were in the same room.
Video conferences use VoIP for real-time communication over the internet.

A VoIP system sends voice data in digital form over the internet, instead of using traditional telephone lines. This makes VoIP a lot cheaper and easier to use than a traditional phone system.

Usually, at least one participant must have a web browser and internet connection, and a web conference software application.

The web conference software application allows participants to share applications, documents, and desktop screens with one another in real-time.
Advantages and Disadvantages of Teleconferencing
Over the past few years, teleconferencing technology has made tremendous strides. Today, it is possible to hold video conferences on different platforms and devices without any restrictions. However, there are always certain disadvantages associated with this technology.
Advantages of Teleconferencing
Disadvantages of Teleconferencing
Enhanced Collaboration – Teleconferencing allows quick resolution of work issues on a PC, laptop or even on the user's mobile device. The use of a huge number of collaboration tools increase the cooperation factor by quick screen sharing and exchanging messages in a common chat room, even being in different parts of the world.

Security – With the development of technology, teleconferencing is one of the most reliable ways to conduct meetings, in which data security and confidentiality are guaranteed. There are also virtually no communication problems thanks to more stable teleconference channels.

Lower Costs – Organizing a teleconference is much cheaper than an in-person meeting. All you need is a microphone, a webcam and speakers. With the advent of this type of communication, costs for travel, rental space and installation of expensive equipment are reduced to a minimum.

Lack of personal interactions – When trying to develop a business relationship, it can be important to see with your own eyes how a person behaves in professional situations. A firm handshake and friendly eye contact are some of the best ways to determine this, but video conferencing does not allow this to happen.

Inclined to Technical Challenges – Unstable Internet or connection interruptions lead to time lags and poor video and audio transmission, which can cause much of the information to be lost or misinterpreted during communication.

Ease of Losing Focus – Conducting a video meeting in the home environment can sometimes lead to a loss of agenda, because it is quite difficult to explain to small children or pets, if any, that complete silence and concentration is necessary during a teleconference. Even if you have set up a workspace at home, your neighbors may suddenly start doing repairs or come to ask for salt.
Advantages of Teleconferencing in Business
Teleconferencing is a cost-effective way to communicate with people in different locations. This is because it eliminates the need for people to travel to different locations in order to participate in a meeting when doing project planning or goal setting. This can save companies money on travel costs. There are other benefits of using teleconferencing:
Increased efficiency – Teleconference meetings allow participants to share information and ideas more quickly and easily than in person meetings. This can save time and lead to better decision-making.
Increased flexibility – Teleconference meetings can be scheduled at any time that is convenient for participants, regardless of their location. This flexibility can help to reduce travel costs and time.
Increased collaboration – Teleconference meetings allow participants to see and hear each other, which can lead to better collaboration and decision-making.
Increased productivity – Teleconference meetings can help participants to stay focused and productive, as they do not have to travel and can work from their own location.
Use Cases for Teleconferencing
There are many different use cases for teleconference software. Some of the most common ones include:
Holding business meetings: Teleconference software can be used to hold meetings with colleagues, clients, or partners from anywhere in the world. This can be especially useful for businesses that have employees or clients located in different parts of the globe.
Conducting training sessions: Teleconference software can be used to conduct training sessions for employees or students. This can be especially useful for organizations that have employees or students located in different parts of the world.
Holding online conferences: Teleconference software can be used to hold online conferences with colleagues, clients, or partners. This can be especially useful for businesses that want to host online events.
Connecting with friends and family: Teleconference software can be used to connect with friends and family members who live in different parts of the world. This can be especially useful for people who want to stay in touch with loved ones who live far away.
How do you set up a teleconference?
STEP 1. Install and deploy TrueConf Server Free (takes less than 15 minutes)
STEP 2. Add user accounts
Your IT admin can create TrueConf IDs and passwords for all users in the group. Send them to your users: these credentials are needed to log into the TrueConf client application.
STEP 3. Download client applications
Ask users to download the TrueConf client application for their operating system from your guest page or from our official website and sign in with their account.
STEP 4. Enjoy video conferencing!
Interested in making a teleconference a game changer in your business? Try TrueConf Server Free and enjoy secure video collaboration that will definitely make a difference for your team.