These days, there are a huge number of video conferencing, meeting and collaboration services available to businesses of all sizes. With so many to choose from it can be difficult to know which tool will suit your needs best. There are a number of factors to consider when choosing the right app including price, quality, ease of use, security and functionality.
In this article we have compiled a list of 23 popular video conferencing apps or services available for Linux users. Read our article to learn which solutions are available for Linux, which are best suited for enterprises, online education, webinars or simple video calls with your friends and families.

Native Linux Apps for Video Conferencing and Collaboration
1. Skype
Skype is loved for its simplicity and quality. It is a good fit for personal communications with your friends and colleagues and is one of the few options on the market that provides native app for Linux. With Skype, you can easily initiate c
alls from your Linux PC with video conferencing, instant messaging, file transfer capabilities.
Best use cases
For small businesses or for video calls with your friends and families.
Features of Skype
Skype lets you call mobiles and landlines across the world at super-low rates, and to top up instantly from your credit card. Group conferences for up to 100 participants allow everyone to join a discussion, regardless of which device they're using.
Skype supports HD video calling, live subtitles, and conversations between desktop computers and mobile devices.
---
2. TrueConf
TrueConf, without any doubt, is one of the best video conferencing software for Linux users. It is an excellent fit for users who value security and privacy. Hosted on your own premises, TrueConf provides a unified communications system with team messaging capabilities that operates offline without Internet connection. It has client apps for multiple Linux distros including Ubuntu, Debian, Mint, CentOS, OpenSUSE, etc. And for those who are not willing to install a dedicated app there's always an option to join from their browser. TrueConf offers team messaging, video conferencing, collaboration tools (e.g. screen sharing, slideshow, recording) and advanced meeting management tools.
Best use cases
For security-conscious organizations, telemedicine, banking, government, defence or enterprises.
Features of TrueConf
TrueConf is the world's only video conferencing software to offer 4K (UltraHD) video calls and conferences.
With TrueConf, you can enjoy video conferencing with multiple participants in LAN/VPN without Internet connection.
It is one of the most user-friendly and reliable tools in the market today that is affordable enough for small businesses and large enterprises.
---
3. Signal
The Signal messenger is a free app developed by Open Whisper Systems. It is an open source instant messaging application for sending encrypted conversations secured by the Signal Protocol Framework, and was designed to provide strong privacy protections under the motive of openness. Unlike WhatsApp or other popular apps out there, it doesn't save data on its central servers.
Best use cases
For safe video calls and security-conscious businesses.
Signal features
With Signal, you can communicate instantly from anywhere in the world. It keeps conversations out of the cloud, and lets you communicate from high-security end-to-end encrypted devices, therefore enabling bits of information to be passed through many intermediate servers on its way from one person to another.
Signal also comes with an advanced set of messaging features. However, it only supports group video conferences for up to 16 participants.
---
4. TeamViewer
TeamViewer delivers real-time remote desktop access and support via video conferencing with a list of additional capabilities. It provides desktop sharing and file sharing capabilities among others.
Best use cases
For remote technical support teams.
Features of TeamViewer
Outdated UI and limited conferencing capabilities
Not initially designed for video collaboration and is better suited for remote support scenarios
Desktop and mobile apps have not been updated for years
Very expensive tiers with basic feature set.
---
5. Cisco Webex
Cisco Webex is a reliable and easy-to-use online meeting tool that promotes interaction and collaboration among users. It is a perfect fit for educational and corporate use and it comes with some incredible features such as audio/video recording, group chat, voice messaging, collaboration tools, social media integration and much more.
Cisco Webex is one of the most powerful solutions for businesses with strong security options, AI and ML-powered features such as smart echo cancellation and background blurring.
Best use cases
For SMBs and enterprises with a large budget.
Features of Cisco Webex
Cisco Webex combines amazingly high-quality video and audio with a seamless collaboration experience.
Cisco Webex comes with a number of useful integrations with other services and marketing apps and offers native apps for Linux.
---
6. Wire
Wire is a security-focused solution for audio and video conferencing. It supports audio calls with up to 100 participants and video calls with up to 50 participants. Wire can be used as a cloud solution or deployed on your own premises. It provides advanced security features such as GDPR compliance.
Best use cases
For safe video calls, enterprises or governments.
Features of Wire
Wire is a messaging app with a focus on speed and privacy. It combines the best of chat and social networks so you can stay in touch with your friends and interests— both existing and new.
Wire provides calendar integrations and has dedicated plans for enterprises and governments.
---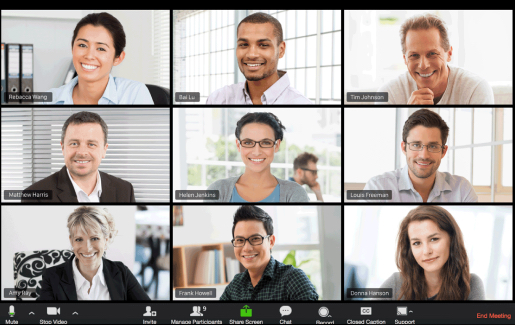 7. Zoom
Zoom is one of the most downloaded video conferencing apps available on the market. It is commonly used by companies of varying sizes to hold meetings with their clients, colleagues, and employees. It also allows users to hold conferences with participants spread all over the world. Zoom offers various plug-ins including options for recording the conversations, screen share, and instant messaging among other features. The interactive features on Zoom are ideal for any business that seeks to deepen their relationships with existing and potential customers while making the interactions more personal at the same time.
Best use cases
For SMBs or personal video calls.
Zoom features
Zoom delivers high quality video, online meetings and chat. It is easy to use and deploy. You share files, screens and control the viewing experience with the tools Zoom has to offer.
Zoom is available on all platforms and offers native apps for Linux, unlike most of other competitors.
---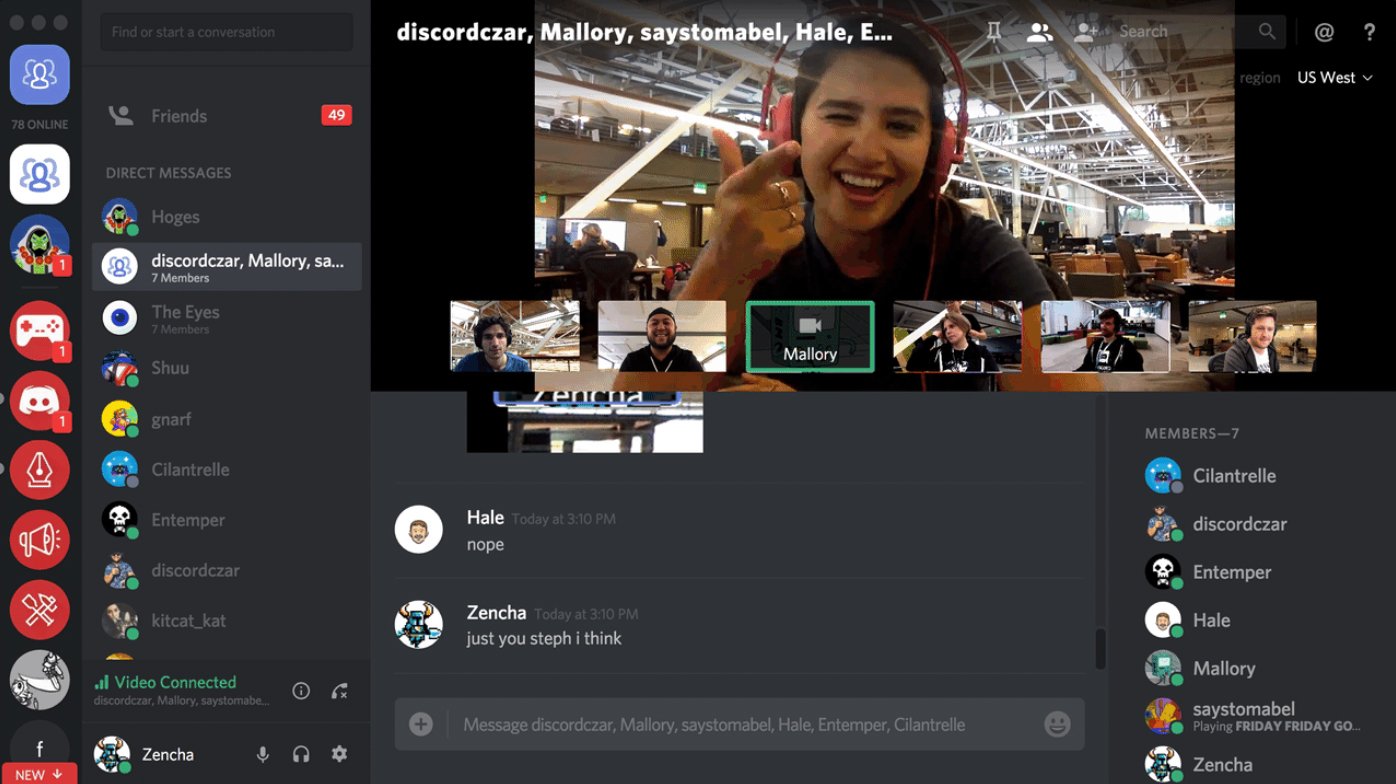 8. Discord
Discord is a video chat application that was originally designed for gamers and works across multiple platforms. It has free voice and text chat and lets users share videos, images, links, and more in channels, group and personal chats with a strong security focus and at the same time provides a fun environment for your communications.
Best use cases
For classmates or gamers.
Discord features
It has an intuitive interface that makes its use simple even for the less experienced users. The app supports multiple languages, something that makes it viable for most parts of the world.
The innovative app gives users access to all the basics needed for a video calling session. The app comes with a high quality screen sharing feature that works perfectly for conference calls, making it easy to have conversations and play games together.
---
9. FreeConference
FreeConference, a cloud-based web conferencing service, lets you create a personal meeting room with your own URL, photo, company logo and description. You can host meetings for up to 1,000 participants, record or stream them with a Radio feature, and control desktops remotely. Interestingly, with this service you can choose how much you are willing to pay with the Pay What You Can flexible plan.
Best use cases
For small businesses or families.
FreeConference features
Experience the power of video conferencing. FreeConference allows you to chat, call, and share your screen with a few clicks on your Linux PC. Share presentations, join calls, and enjoy face-to-face communication.
FreeConference is designed for small businesses, families, and groups that need to collaborate on the go. You can join webinars, video calls, or video conferences from anywhere.
---
For Browser-Based Meetings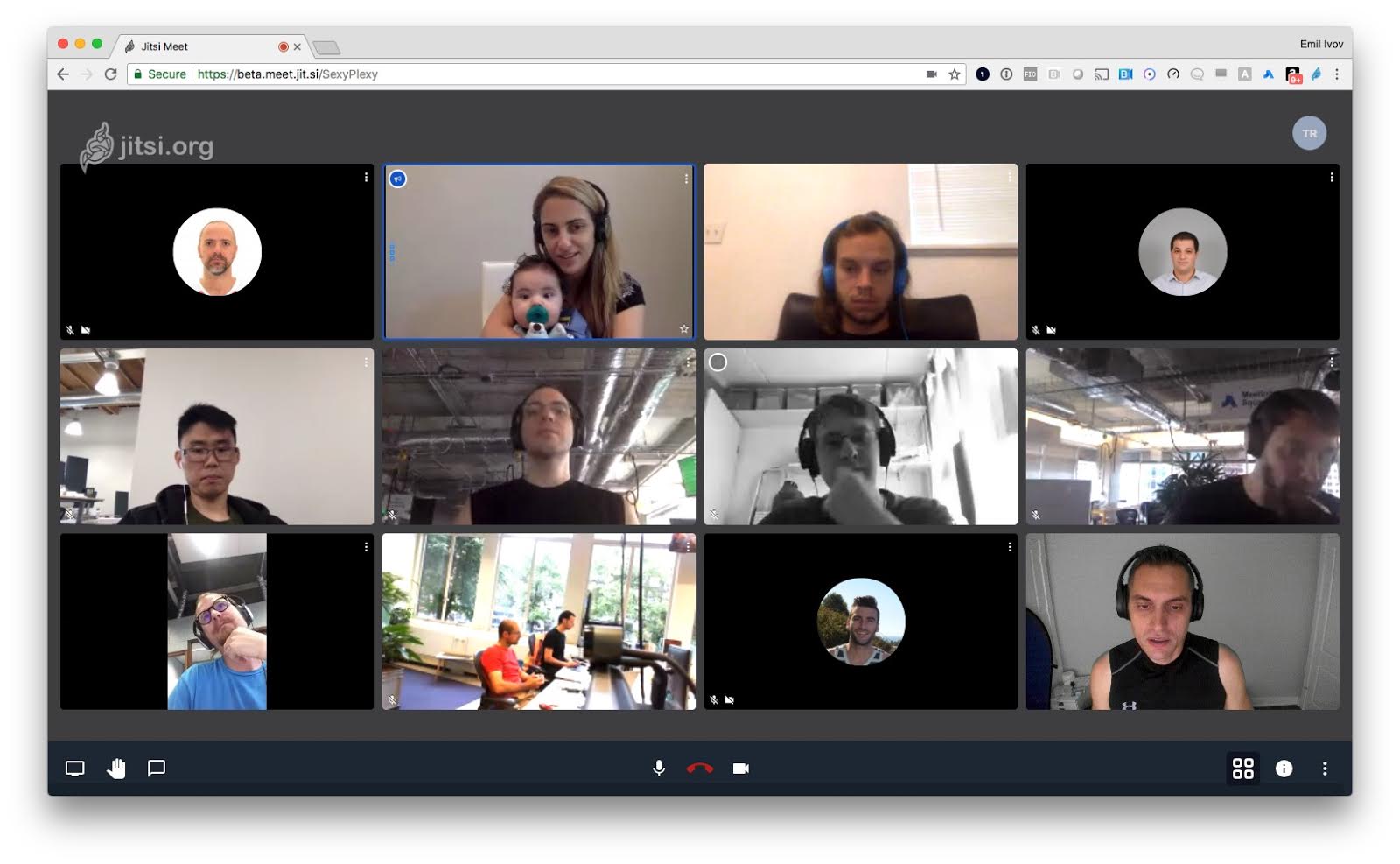 10. Jitsi
Jitsi is an open source project designed to create a more secure, effective, and flexible way to communicate. The platform allows you to organize conferences in browsers without needing to switch applications or pay expensive call bills.
To run secure in-browser meetings, you need to self-host Jitsi on your own Linux-based server.
Best use cases
For developers or IT engineers.
Jitsi features
Jitsi is a great alternative to paid, proprietary programs. It is free and does not require any third-party software. However, it requires IT administrator skills to set up and configure.
Jitsi supports all major operating systems. It's compatible with WebRTC for secure, convenient video calling across various networks.
Jitsi is based on Simulcast technology and doesn't use channels and resources efficiently. It supports max 75 participants per meeting.
Jitsi also offers plugins for calendar integration (Gmail and Outlook).
---
11. Zoho Meeting
Zoho Meeting is a powerful yet easy-to-use, web conferencing and screen sharing service designed for businesses. With this app, you can quickly and easily host online meetings and video calls, share your screen to review presentations with your colleagues or clients anywhere around the world, and more.
Zoho Meeting lets you organize online webinars and engage with your audience. With support for screen sharing, desktop sharing, online whiteboard, chat, immersive full-screen mode, and more, this app helps you take your meeting to a whole new level. It also offers some integrations with popular CRM systems.
Best use cases
For SMBs.
Zoho Meeting features
Keep everyone on the same page and better engage your audiences with webinars that can be associated with detailed analytical reports, polls, Q&A sessions and presentations. Put into place a simple and effective tool to generate interaction and discussion on important topics. This webinar will also equip you with great tips for creating the best types of webinars.
Zoho meetings only work in browsers and it doesn't provide a dedicated Linux app.
---
12. StartMeeting
StartMeeting is positioned as a UC platform designed to enhance your audio/video communications with interactive sharing, screen control, and cloud recording. It allows hosting large meetings with up to 1,000 participants at once through desktop apps.
Best use cases
For SMBs.
StartMeeting features
StartMeeting gives a 30-day free trial. After this, it is priced 10$ per month in the most basic account.
The platform allows customizing apps including meeting walls, waiting music, lobby and greetings.
With few reviews and customer case studies, StartMeeting does not significantly differ from its competitors while providing outdated UI and limited feature set.
---
13. Join.me
Join.me is another meeting solution designed for video calls and collaboration. Apart from basic screen sharing and meeting capabilities, it also delivers integrations with productivity tools such as Slack or Trello. Join.me offers desktop apps for Windows and mobiles, while Linux users are limited to pure in-browser experience.
Best use cases
For SMBs or families.
Features of Join.me
Join.me does not require downloading, installs, or plugins. The meeting link can be instantly shared with one click.
Join.me is a part of GoTo services (e.g. GoToMeeting).
---
14. Google Meet (Google Hangouts)
Google Meet (formerly Google Hangouts) offers an option to run video meetings in the browser with your Google account. This service provides live captions, screen sharing, and basic chat functionality. It also has a native integration with other Google services such as Google Calendar, which makes it a favorable option for all G Suite lovers.
Best use cases
For personal communication
Features of Google Meet (Hangouts)
Google Meet is a good free option for one-time meetings, but it lacks UC capabilities such as team messaging and address book, which makes it an arguable choice for corporate usage.
With absolutely no downloads or software installs, Google Hangouts allow you to video chat face-to-face with up to 250 people at the same time.
---
15. Whereby (Appear.in)
Whereby (formerly Appear.in) makes it easy for you to host an online meeting in your browser in just three clicks. No logins, no downloads – all you need is a browser and Internet connection. With a webcam and a microphone, everyone will be able to see and hear one another clearly without anyone having to download extra software or create new accounts. You can also easily share your screen – either only with the participants of the meeting or with selected ones – so that others can see what's on your screen.
Best use cases
For personal communication.
Features of Whereby (Appear.in)
Organize online meetings for up to 100 participants on your custom subdomain and enjoy collaboration tools (e.g. screen sharing and recording).
Add video calls to your own website or application with Whereby Embedded and increase user engagement.
---
16. Talky
Talky is a super simple video conferencing app for video calls with your friends in your browser for up to 6 people. It does not provide any other features apart from video calls and screen sharing, which may be more than enough for family gatherings.
Best use cases
For personal communication.
Talky features
You can share the URL of your virtual room with your friends and colleagues. They don't need to install any apps or software.
You can lock your meeting for additional privacy.
---
For In-Browser Online Education
17. OpenMeetings
OpenMeetings is a dynamic open source browser-based video conferencing service based on Apache. The system comes with its own robust video conferencing tools that are designed to suit the needs of online education. It also offers instant messaging, collaboration and whiteboard tools.
Best use cases
For teams or schools with IT engineers
OpenMeetings features
OpenMeetings is a free and open source software which is supported by an awesome community. However, it has an outdated UI and limited feature set.
Requires IT engineer to configure and set up.
Doesn't provide stable meetings and may have lags in video and audio quality.
---
18. Virtual Classroom
BrainCert's Virtual Classroom is an online teaching platform that you can integrate with an existing learning management system, website or app with the help of APIs. Similar to Jitsi, it is based on Simulcast technology and provides in-browser virtual classroom experience. Virtual Classroom comes with a wide range of innovative features that ensure your classes live up to the reputation of modern education.
Unlike other video conferencing solutions in the market, HTML5 Virtual Classroom offers unique online teaching features such as equation editor, group screen sharing, code editor and much more.
Best use cases
For those who already use Moodle
Features of Virtual Classroom
HTML5 Virtual Classroom offers AES-256 encryption.
It allows you to create custom modules and lectures, generate and distribute exams and handouts, and provide virtual grades and certificates to your students.
The Virtual Classroom performs well on low bandwidth.
---
19. BigBlueButton
BigBlueButton (BBB) is an open source teaching platform that was built to meet the needs of learning institutions, enabling them to use web conferencing capabilities.
BigBlueButton is self-hosted so you will need to install it on your Ubuntu server, which will require Linux admin skills. Advanced integrations will require the use of APIs. BigBlueButton supports screen sharing, polls, voting, recording and whiteboard, but its operation might be unstable and depends on your server resources.
Best use cases
For teams or schools with IT engineers.
Features of BigBlueButton
BigBlueButton can be used to create conferences for up to 100 users in a single session.
BigBlueButton is a free, open-source web meeting system that supports every modern browser.
It does not provide native apps for Linux, so your security is limited with basic website capabilities.
---
20. Elos (Mconf)
Mconf is an open source web conference service based on BigBlueButton technology. It has been recently shut down and recreated as Elos, an online communication platform. Elos works in browsers, offers slideshow, screen sharing and note taking. The free plan supports up to 15 users in a meeting.
Best use cases
For schools.
Features of Elos (Mconf)
Best suited for online teaching and virtual learning environments. The paid tier is billed on a monthly basis.
Among other basic features it also offers monthly reports and stats.
---
For Webinars and Marketing Automation
21. Livestorm
Livestorm is a browser-based platform for online communication. The app was designed to replace the usual conference calls, web meetings and other collaborative meetings that large organisations or groups normally use. This solution is jam packed with video engagement features such as Microsoft PowerPoint Presentation integration, collaboration tools, annotations and chat.
Livestorm provides a simple setup that you can use to start sharing your screen or voice with another person or multiple people. However, it is primarily intended to make on-demand, live, or pre-recorded virtual events.
Livestorm features
Livestorm lets you collaborate live from your computer, virtually anywhere on the planet.
Free tier includes webinars with up to 10 participants per 20 minutes or instant meetings with up to 4 participants.
---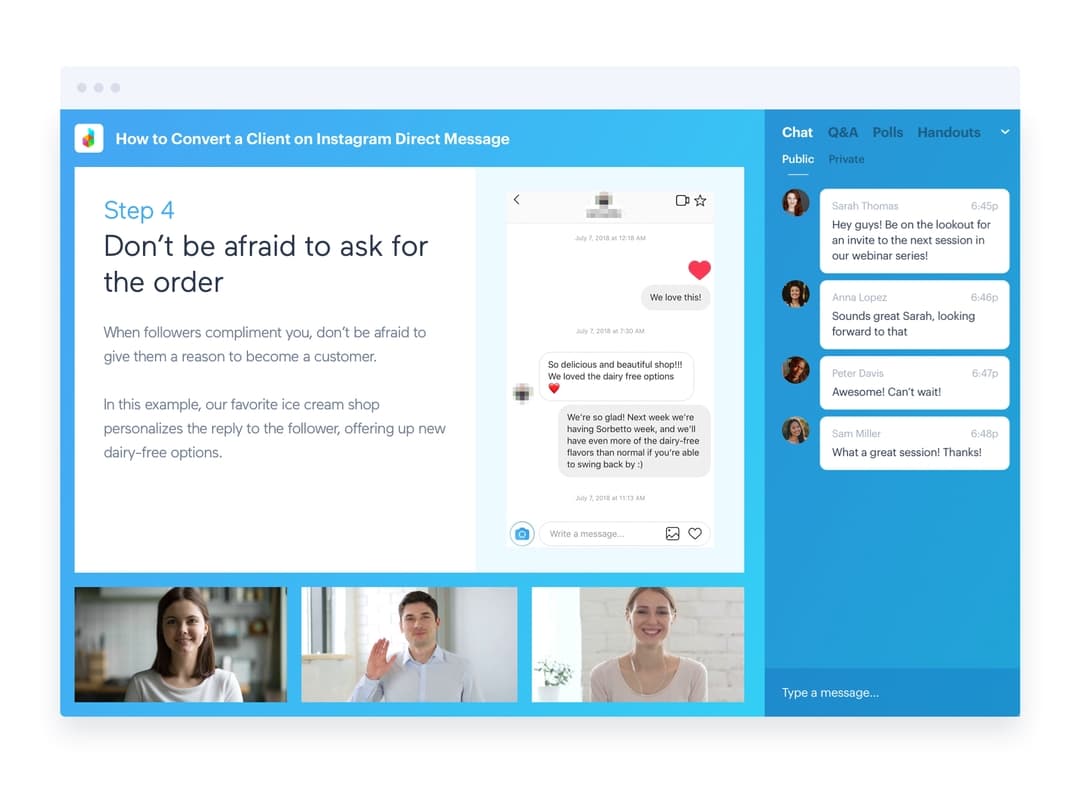 22. BigMarker
BigMarker is a browser-based webinar platform that can be used for small business marketing purposes (e.g. to embed your video stream to a webpage, host branded webinars, or automate lead generation campaigns). Using BigMarker for your online class doesn't require any special equipment; the participants only need to have an internet connection and a browser installed on their system.
Features of BigMarker
BigMarker is not really user-friendly and may require an on-boarding process for new users.
The pricing strategy may be a little too expensive for some customers.
BigMarket supports authentication through social networking accounts as well as standard email accounts.
BigMarker can be used as an online event platform with marketing automation options and engagement tools.
---
23. Onstream Webinars
Onstream Webinars is another platform for organizing live webinars with an electronic hand rising, voting and calendar management. This solution can also be used remotely to host webcasts, lectures and training sessions. It provides an easy to use interface that may be accessed from the convenience of your browser.
Features of Onstream Webinars
Onstream Webinars delivers software for presentations, training sessions, product demonstrations and Q&A.
Onstream Webinars provide a lot of security options and a range of tools to engage your audience that provide instant insights into attendees' thoughts and opinions.
How to choose the right video conferencing software for Linux?
Linux is gradually becoming the preferable operating system for many government organizations, security-focused folks, healthcare, banking and insurance companies and major businesses that run servers that host cloud and big data applications (e.g. Facebook, Google or CERN). Additionally, smaller businesses choose Linux because it does not require special licensing, provides more flexible settings and is distributed for free.
The growing interest in Linux also creates higher demand in video conferencing and collaboration applications available for this OS. When choosing the right communication solution for your business, you should pay attention to the following facts: the availability of native Linux applications, the number of supported distros, regular updates and technical support provided by the vendor. In-browser meetings may seem easier and faster, but they do not provide the same level of security and cannot offer advanced unified communication and team messaging features such as address book and presence statuses that may be required for your team.
As you can see, the Linux-based video conferencing market is still very new, with specific vendors such as TrueConf or Cisco providing the same level of experience as for other desktop users. Whether you choose to go with an open-source video conferencing service or proprietary technologies, you should have clearly set your video conferencing objectives. Also check out the best video conferencing software.