What is a Collaboration App?
A collaboration application is a software solution designed for remote teams working on common projects. As a rule, this type of platform includes video conferences, personal and group chats, as well as a dedicated set of tools that enable simultaneous file editing.
The feature that enables you to share your screen with other participants in the communication is in particularly high demand. In this way, people from different cities, countries, and time zones can work together.
Collaboration applications have become a real necessity for companies with branches in multiple cities that want to remain competitive in a fast-paced world. At the same time, even small businesses are increasingly turning to these solutions to ensure productive work in any circumstances. If you are planing to develop a collaborative app or something simialr, then follow this checklist.
How to Choose the Perfect Team Collaboration App?
Selecting the appropriate collaboration solution can be a challenging task, given the vast number of options available in the market. It is essential to understand that the application should primarily meet the needs of your team and the tasks they carry out.
To start, carefully review the functions that vendors incorporate into their solutions. Make sure to identify the priority opportunities that your team will need to implement the tasks set in the future. Whether it is a messenger with personal or group chats or an editable presentation display, the application you choose must include it. If you are not sure, it will be better that you look up their email address and send a mail to consult.
The importance of security, especially in corporate business solutions, cannot be overstated. A team application must reliably store personal data and ensure communication protection through encryption. Currently, the most effective approach is end-to-end, which transforms data into a complex set of numbers. An example of this is the widespread usage of Digital Business Cards. By digitizing contact information and leveraging secure transmission protocols, Digital Business Cards not only enhance networking efficiency but also contribute to a secure information exchange ecosystem.
An important aspect here is also the compatibility of the selected application with the General Data Protection Regulation (GDPR) established by the European Union. This regulation establishes the guidelines for collecting, processing, storing, and transmitting personal information.
Focus on intuitive applications that do not require extensive training and are convenient even for first-time users of such solutions. Otherwise, team members may simply avoid working with the platform, which will only reduce productivity in the end.
Compatibility is also an essential aspect, whether it's PCs, tablets, or smartphones.  With modern mobile app development, the application should be compatible with the devices that your team members are accustomed to or have the ability to work on multiple types of systems simultaneously.
In straightforward terms, your mobile app should operate seamlessly on various devices and operating systems such as iOS and Android, according to your team's preferences and requirements. This adaptability is crucial, much like the flexibility needed in mobile game development services, ensuring that applications meet diverse user needs and preferences. This ensures that your team can easily utilize the app on smartphones, tablets, or diverse operating systems without encountering any issues. On this company, developers emphasize the need for adaptability to ensure seamless functionality across various devices.
Plus, it's also about guaranteeing that your app can seamlessly adjust to the continuously evolving tech landscape. This adaptability is essential for catering to the diverse preferences and requirements of your team members, ultimately boosting productivity and enhancing collaboration within your organization. This is especially true for organizations that prefer a hybrid format of work.
Finally, you can view reviews for the selected application. However, it is worth remembering that the reactions to collaboration solutions often depend on whether they are actually suited to the team.
Top 6 Collaboration Apps for Productive Teams
It is important to understand that even the criteria listed above, which are designed to simplify your search, may not be sufficient. Therefore, the process may require a substantial amount of time. In this case, below is a list of collaboration solutions, among which you will surely find a suitable option.
Asana
Asana is an online service specifically designed to efficiently manage tasks and projects for teams. Currently, the solution supports not only Windows and macOS, but also Android and iOS.
The functionality of Asana allows you to create tasks, prioritize them, and assign responsible team members. At the same time, users have the ability to independently add the necessary files and set the required deadlines.
The solution includes a calendar that allows you to schedule tasks in advance, based on specific dates. This method of work distribution greatly simplifies the implementation of even the most complex projects, enabling the team to evenly distribute their activities.
An interesting advantage is the ability to create themed boards. Comments serve as the primary means of communication for platform users. At the same time, tasks are always open for editing, allowing them to be modified during implementation or based on the team's decisions during discussions.
While Asana has been a popular choice for project management, many users are now seeking an Asana alternative due to its disadvantages. These drawbacks include its complexity for beginners and the high cost associated with using the service. Moreover, the solution does not integrate with most conferencing platforms, limiting communication to comments in tasks as the sole means of interaction.
Trello
Trello is a widely-used, cloud-based solution for coordinating projects and tasks. The platform is designed to function seamlessly on both personal computers and mobile devices, making it incredibly convenient to work with.
Trello includes a wide range of features that greatly assist in organizing and facilitating collaboration. One of the most important collaboration tools here is a project board that can be created to align with the requirements of tasks.
To ensure comfortable work, each of them is equipped with the ability to add cards, which include descriptions, attached files, and deadlines. Shortcuts are provided as a way of categorizing tasks based on their type, priority, and status.
The notifications automatically sent by Trello via email or displayed in the smartphone app are also a valuable feature. The primary purpose of this ability is to unite team members, keep them updated, and thereby significantly increase productivity and the speed of task completion.
One of the disadvantages of Trello is the inability to track the time spent on a project. If this feature is necessary for your work, then you will need to rely on third-party solutions. For teams looking to enhance their project efficiency, exploring advanced video workflow management solutions can be a game-changer in streamlining collaborative efforts.
It is also known that Trello has some limitations when it comes to security. Therefore, the application may not be suitable for individuals intending to use it for business purposes.
Integration with other solutions can be quite challenging. Trello, in conjunction with the Signal messenger and Google services, can ensure well-coordinated work.
 Slack
Slack is a popular cloud-based solution that is frequently utilized to coordinate team members and streamline task implementation. The platform is compatible with the most popular operating systems, including Linux.
When it comes to capabilities, one of the most valuable features of Slack for collaboration is video conferences. As practice has shown, online meetings significantly reduce the time spent on project implementation. This is because issues can be resolved much faster through discussions held in a video setting.
The effectiveness of teamwork is also determined by the ability to create tasks using the «Todoist» list and monitor them, including utilizing a special notification system. Slack collects analytical data based on the behavior of team members, ensuring that all employees are kept informed and involved.
It is worth noting that for many, this solution is primarily known as a messaging platform. Engaging in individual task chats greatly facilitates collaboration as it allows participants to freely share ideas and discuss emerging issues at any time.
Slack seamlessly integrates with a wide range of work and video conferencing solutions as well as top project and product management platforms. Therefore, the application will be suitable for many teams who prefer using a unified system of solutions to save time.
However, the price of Slack can be a deterrent when considering it as the primary method of team communication. The solution features are available through a paid subscription, which may not be affordable for individuals who are just starting their own business.
Another serious problem may be the cloud-based nature of Slack. The solution stores all user data in its own cloud storage, which means you may not have full control over the sensitive information of all team members.
TrueConf
TrueConf is a reliable server solution designed for corporate communication. The application is compatible with all popular operating systems, including Windows, Linux, and macOS. As for mobile devices, the solution is adapted to work on both Android and iOS.
TrueConf offers a wide range of collaboration tools, including online conferencing, screen sharing, and the ability to annotate on top of content. The video quality can simultaneously reach 4K Ultra HD, providing a lifelike presence.
Team members can exchange images, videos, and documents necessary for task implementation through chats. At the same time, each user has a presence status that indicates their online status and the device they are working from.
TrueConf is equipped with a calendar feature that enables you to schedule online meetings by setting the date and time in advance. Users can also set up weekly discussions, for example, to facilitate the necessary summarization process.
As mentioned above, TrueConf is a server solution, which means that your confidential information is securely stored on-premises and can only be accessed by you and the system administrator. At the same time, all data is carefully encrypted using end-to-end encryption, ensuring that only you and your intended recipients will be able to access and recognize them.
TrueConf fully complies with GDPR, ensuring that users can have complete confidence in the privacy of their communication. Thus, this platform not only facilitates teamwork but also ensures a high level of security for businesses.
Microsoft Teams
Microsoft Teams is a communication platform that has replaced Skype for Business. The solution is compatible with both computers and mobile devices, which makes it a popular choice for trips. First and foremost, Microsoft Teams is renowned for its capability to facilitate video conferences and collaborative document editing. The application seamlessly integrates with other Microsoft solutions, such as Office 365 and OneDrive.
The built-in messenger is great not only for personal discussions but also for dividing a large number of employees into separate teams. This solution is fully GDPR-compliant, ensuring the security of your personal data.
However, it is important to understand that the cloud-based platform does have a certain level of vulnerability. In particular, this is due to the vulnerability of virtual storage, which houses all user information, including confidential data.
The portability of Microsoft Teams is also quite limited, as the smartphone version of the application lacks the same functionality as its desktop counterpart. In many cases, this fact can be an unpleasant disappointment for individuals accustomed to using their mobile phones for work.
Additionally, for many people, the price of the solution becomes a problem. The functions described above are available to those who have purchased the full version of Microsoft Teams, whereas the free version is quite limited in terms of features.
Flock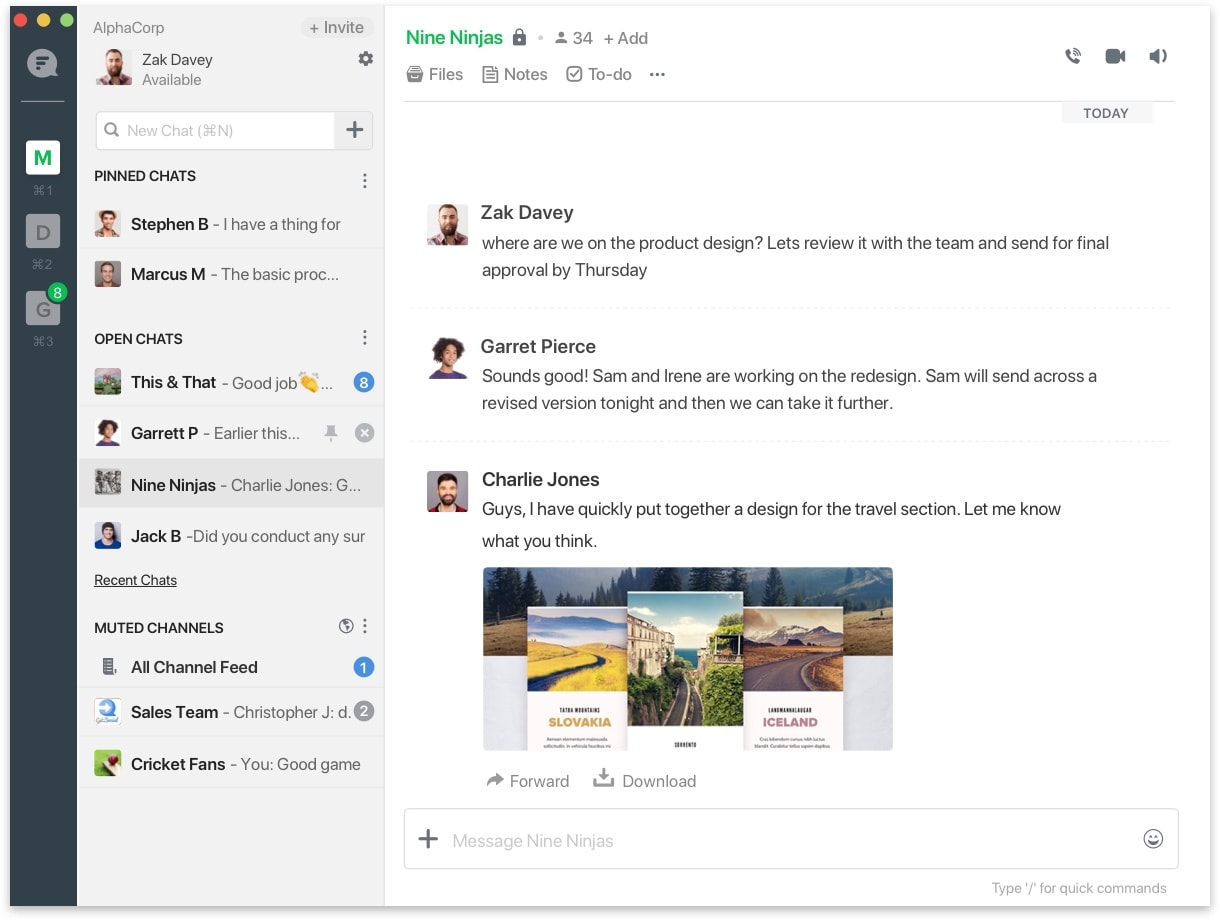 Flock is a comprehensive team communication solution that offers features such as video conferencing and messaging capabilities. Users have the ability to share files and collaborate with each other on any device, including computers and smartphones.
In addition to facilitating personal and group chats, the application also allows you to create virtual whiteboards for task management. Thanks to them, team leaders can effectively coordinate participants and monitor the overall progress of the project.
Flock seamlessly integrates with other solutions, including Trello and Asana mentioned earlier, as well as various Google services. Users can effortlessly communicate and share files without the need to constantly switch between different services.
Flock has a few disadvantages, including slow operation when there are a large number of participants and chat messages in a discussion. This factor complicates the interaction, making the solution more suitable for small teams.
It is important to note that Flock is not suitable for long-term projects as it does not retain message history beyond 30 days. Accordingly, the platform is much more convenient for solving daily and weekly tasks rather than annual business plans.
Conclusion
In today's world, where hybrid and remote work formats are gradually replacing traditional office work, collaboration applications are gaining popularity. Thanks to such solutions, teams from different cities or countries can freely interact and collaborate on common projects without having to worry about time zones.
Collaboration applications ensure the prosperity of many business sectors, whether it is a small commercial project or a large company. The most crucial aspect is to choose a platform that is specifically suitable for your company.