Instant Messaging Service (IMS) or Instant Messenger (IM) is a client program for real-time chatting over the Internet. To use such services, you only need a device (smartphone, tablet or PC) and Internet connection.
In the early days of instant messaging, people used two different programs to communicate. On the one hand, there was ICQ, a program developed by the Israeli company Mirabilis. It was one of the first to allow chatting with friends, family, or strangers. ICQ was acquired by AOL in 1998. On the other hand, there was Yahoo! Messenger, which was launched in 1998. This program allowed people to communicate with each other, share photos, and make video calls. Experts from a leading web development Dallas company suggest that these programs laid the foundation for the digital communication tools we use today, influencing the design and functionality of modern messaging applications.
Nowadays, instant messaging is one of the most popular means of communication. Especially with an iOS app builder and other tools, it has become way more easier to develop and deploy custom communication apps for instant and more effective communication. WhatsApp, Facebook Messenger, and WeChat are some of the most widely used programs.
Consumer apps vs Business apps
The culture of communication is changing and adjusting to the standards of time. Instant messengers have become an integral part of our lives: they are now popular tools for everyday and business communication. We text, record voice messages, and resolve issues in group chats or during video meetings.
However, with the advent of app builder tools, businesses can now design tailored messaging platforms specific to their needs. To solve the work tasks, we often require not only a separate messaging service but a full-fledged platform for remote work with advanced collaboration features that can provide reliable communication and effective team management. This is why the standard functionality of popular messengers such as WhatsApp or Facebook Messenger may not be enough for large companies.
Instant Messenger for Business
Team messenger is a program or application for instant messaging and asynchronous communication with your employees or partners. By using such platforms you can provide technical support, collaborate on shared projects, drive employee engagement, answer questions or give feedback.
When choosing a messenger, you should take into account the following features:
Channels. Specialized content spaces that allow you to share information to hundreds of employees in a couple of seconds.
Security. Cryptographic protocols and end-to-end encryption that protect confidential information.
Cross-platform. The ability to connect to the app from any device: PC, Mac, or mobile.
File transfer. Ability to send any kind of files (PDF, XLS), as well as images without quality compression.
Integration. Possibility to connect your application to other corporate software or integrate it with CRM, CMS to expand your work capabilities.
There are many team messenger programs available, and the right one for you will depend on your specific needs and preferences.
Skype
Skype is a free, popular worldwide app for personal video communication. The solution allows users to send text messages and run video meetings with up to 100 participants. You also can send text, voice and video messages, exchange files in group chats with up to 600 participants. In addition, Skype allows users to create simple bots to perform routine actions.
Drawbacks of Skype: The solution is more suitable for personal communication and is not intuitive to use.
Microsoft Teams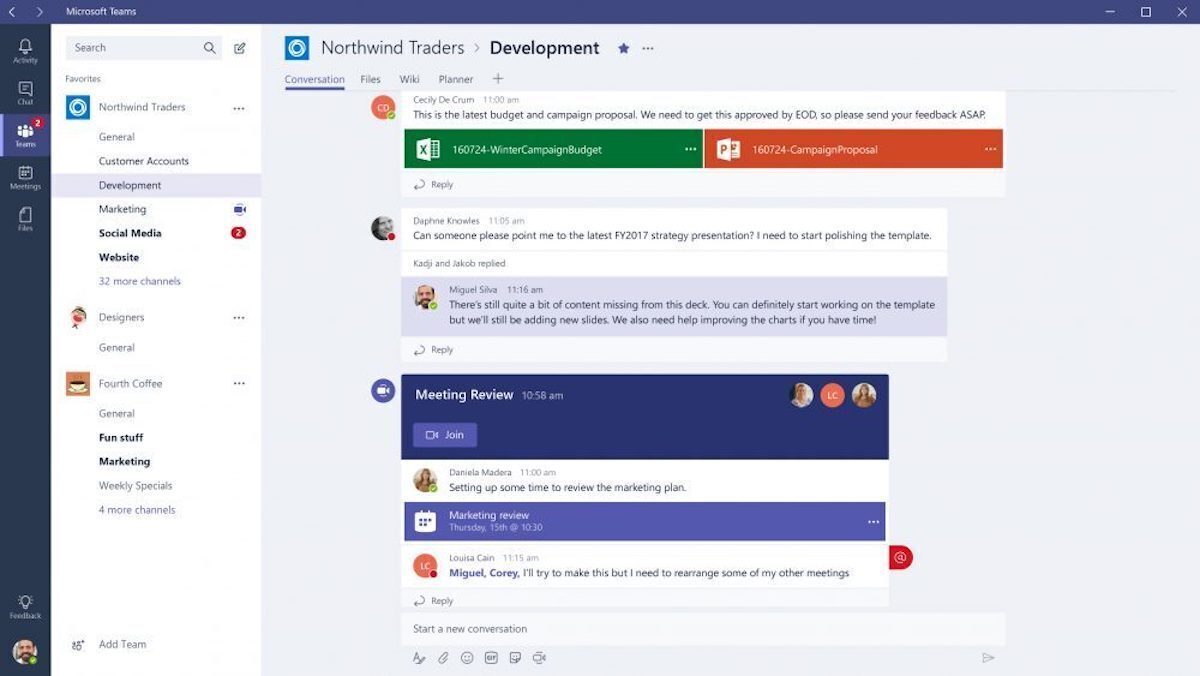 With Microsoft Teams, you can create group chats and channels. The solution offers helpdesk integration as well as integration with the company's proprietary services, so you can seamlessly collaborate on documents while using programs that are part of Office 365. For example, participants in the same group can together edit documents in Word, Excel or PowerPoint directly in the application. The functionality of the software includes the possibility to use bots responsible for notifications and responses to requests.
Drawbacks of Microsoft Teams: Cloud solution with a rather complicated UI.
Slack
In Slack, you can create commands, chat with company employees and colleagues from other organizations, manage task chains, and automate routine processes (e.g., repetitive responses, collecting feedback). All Unreads function shows unread messages from all chats. With Kill Switch, the administrator notifies all participants of the need to change their passwords. In the free version, your team can use 5 GB of cloud storage and access for the last ten thousand messages.
Slack can synchronize with popular services, such as Google Docs, Trello, Google Drive, DropBox, etc. It also has plenty of integrations, for example, you can connect your automatic time tracking service to the app.
Drawbacks of Slack: For corporate use, it's best to purchase a full version, as the free version has very limited capabilities. The minimum paid plan is $6.67 per month per user, which is quite costly. In addition, the program offers rather poor video conferencing capabilities.
Flock
Messaging in Flock is organized into channels, which can be organized around projects, departments or anything else. You can add as many team members to a channel as you want. Channels can be open or closed, which means that only those with an invitation can join the channel.
Flock allows you to create multiple teams, each with its own workspace, members, channels. You can connect your team to services such as Dropbox, Google Drive, Google Docs, GitHub, Salesforce, and more. Flock also supports video conferencing for up to 20 participants, screen sharing, and file sharing.
Drawbacks of Flock: The message limit is 10,000 messages, which makes it difficult to save messages for later use.
Troop Messenger
Troop Messenger is a quite easy-to-use office messaging tool with a user-friendly UI. Users can communicate in both one-on-one and group chats, share files, edit and delete messages. Special features include a message marker that reminds you to respond to messages later and self-delete messages.
The solution allows you to run group video meetings up to 6 participants on both desktop and mobile, as well as in browser.
Drawbacks of Troop Messenger: Troop Messenger has hidden chat area filters, no ability to record meetings, and poor integration with third-parties. Some users have noted that the solution may run slowly on Android devices.
Google Chat
This is Google's own version of instant messaging, and it's available right inside of Gmail. Google Chat is pretty similar to famous app/brand names like AIM and MSN Messenger, and it has all of the same features (including voice and video chatting). Google Chat offers group chats with an ability to add photos, emojis and users location. The search feature allows you to filter results by chats and content you've shared. Your chat can be escalated to a video call for up to 9 participants with Google Meet service.
The solution is integrated with other G Suite services, including Google Drive, Docs, and Sheets, and has become a great alternative to Slack for many businesses..
Drawbacks of Google Chat: The solution is not suitable for corporate use because of Gmail synchronization and lack of channels on specific topics.
Chatwork
Chatwork is a business communication tool that includes video chat, task management and file sharing. The collaboration tool offers group and personal chats, message history, user list, file previews, screen sharing, and pin chats. Chat is available in five languages and can be accessed through desktop browsers as well as via free mobile app for Android and iOS.
You can integrate Chatwork with eight services: Facebook Messenger, Gmail, Skype, Microsoft Outlook, Twitter, Google Hangouts, LinkedIn, WhatsApp.
Drawbacks of Chatwork: In Chatwork, it is quite difficult to keep track of all the messages because of their chronological ordering. There is also a limit to the number of group chats you can join. One more significant disadvantage is the lack of presence statuses.
Twist by Doist
Twist is a team messenger from the developers of Doist, specializing in app development, and is accompanied by the Doist task tracker. In addition to the basic functions of exchanging messages and media files in personal and group chats, you can sort your chats by channels. Twist has no indicators for new notifications and the interface resembles a bulletin board: there are thematic channels which contain discussion threads divided into subtopics.
Twist is a good choice if you want to communicate with a team of like-minded people. It is not recommended to use this messenger to communicate with family and friends, because they may not understand the interface.
Drawbacks of Twist: To unlock the full message history, access to unlimited file storage and more integrations, you have to pay for subscription. At the same time the application does not implement video and voice calls and bots (even in the paid version).
Cisco Webex Teams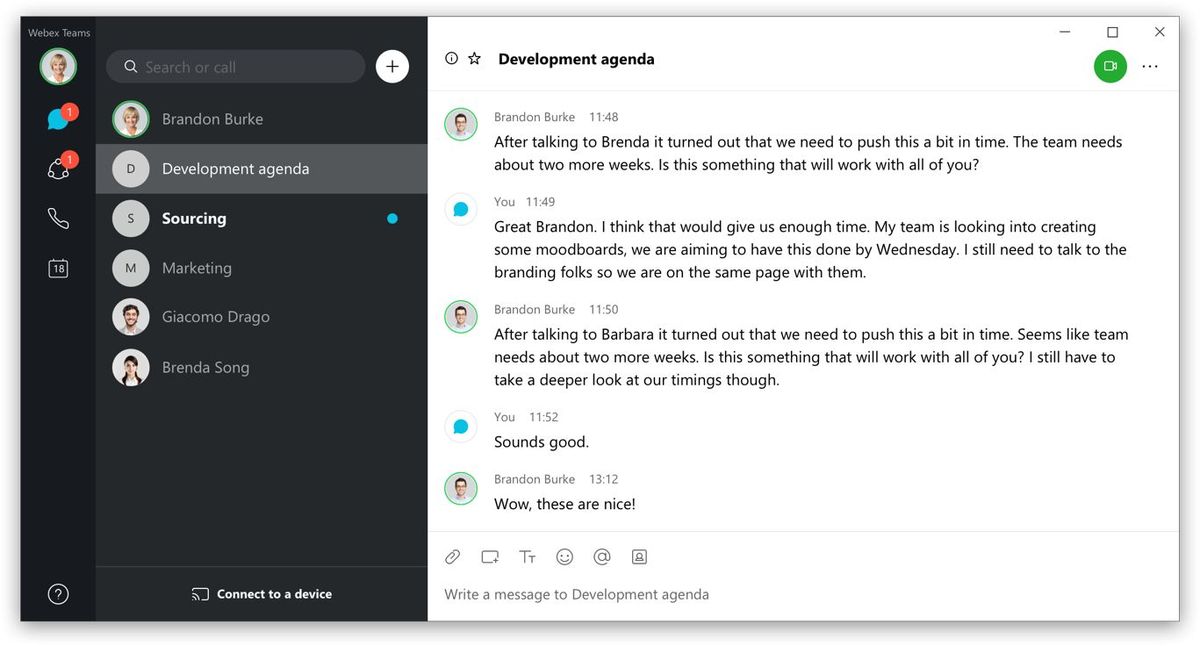 Cisco service also provides all the necessary features for remote work such as polls, chat, whiteboard, various analytics, etc. By creating a virtual space, users can exchange messages, share and browse files, make group voice and video calls for up to 100 participants in the free version. The product can be integrated with the Microsoft Office 365 suite of tools: Excel, PowerPoint, Outlook, OneDrive, etc.
Drawbacks of Cisco Webex Teams: Cisco Webex Teams have no screen sharing option for non-hosts. In addition, the solution has a significant effect on the CPU and PC performance. There are a number of minor limitations related to the peculiarities of operating systems, for example, users of Mac devices can only join one meeting at a time.
Zoho Cliq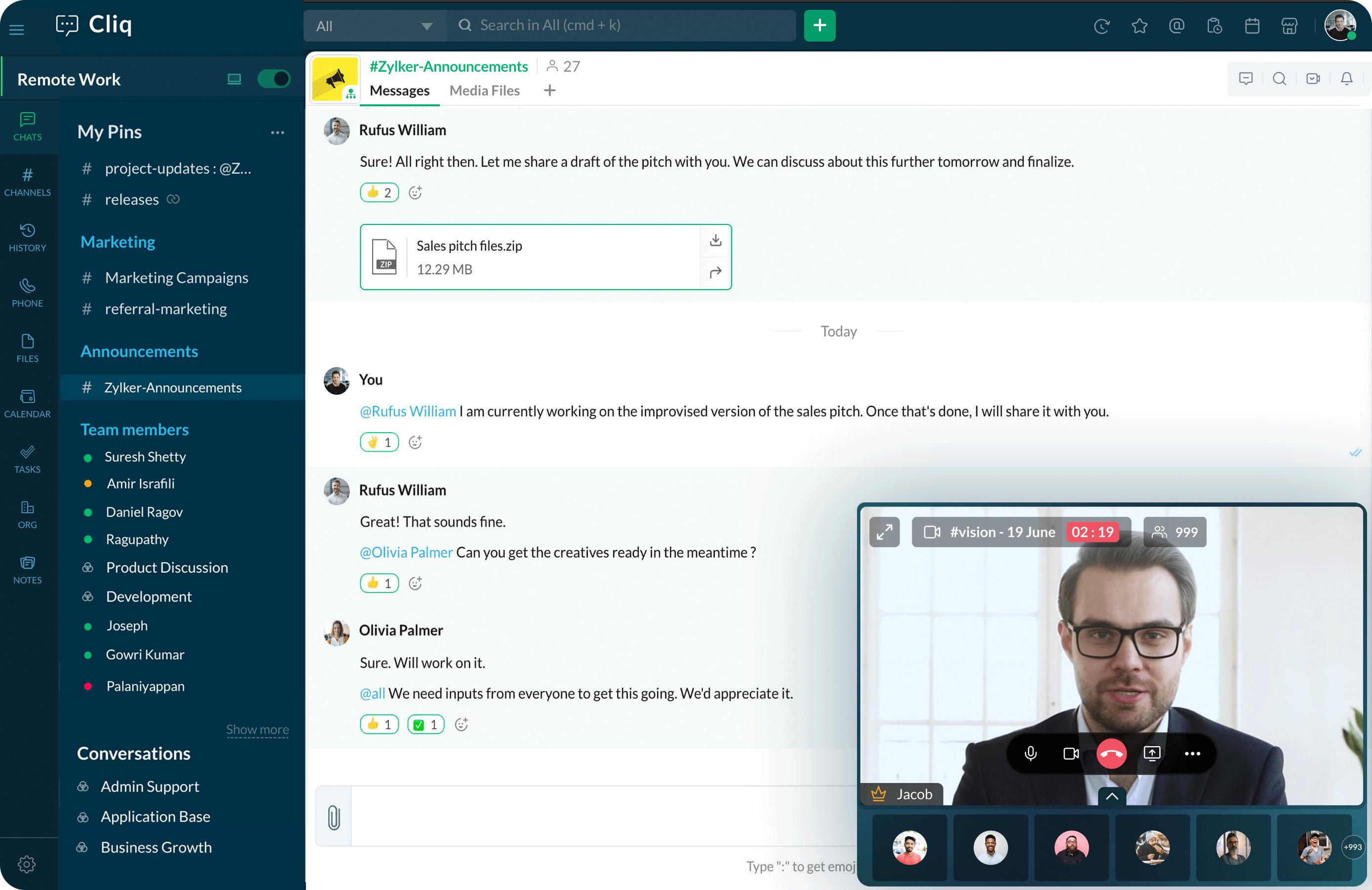 Zoho Cliq is a cloud-based collaborative platform where you can create team and private chat channels and invite other people to join them. The admin console allows you to add users to different channels and groups. Zoho Cliq has unlimited storage both for files and messages.
Drawbacks of Zoho Cliq: Some users consider the lack of ability to delete or edit messages to be a significant disadvantage. In addition, initial set up can be a little daunting if you aren't a tech-savvy person.
RingCentral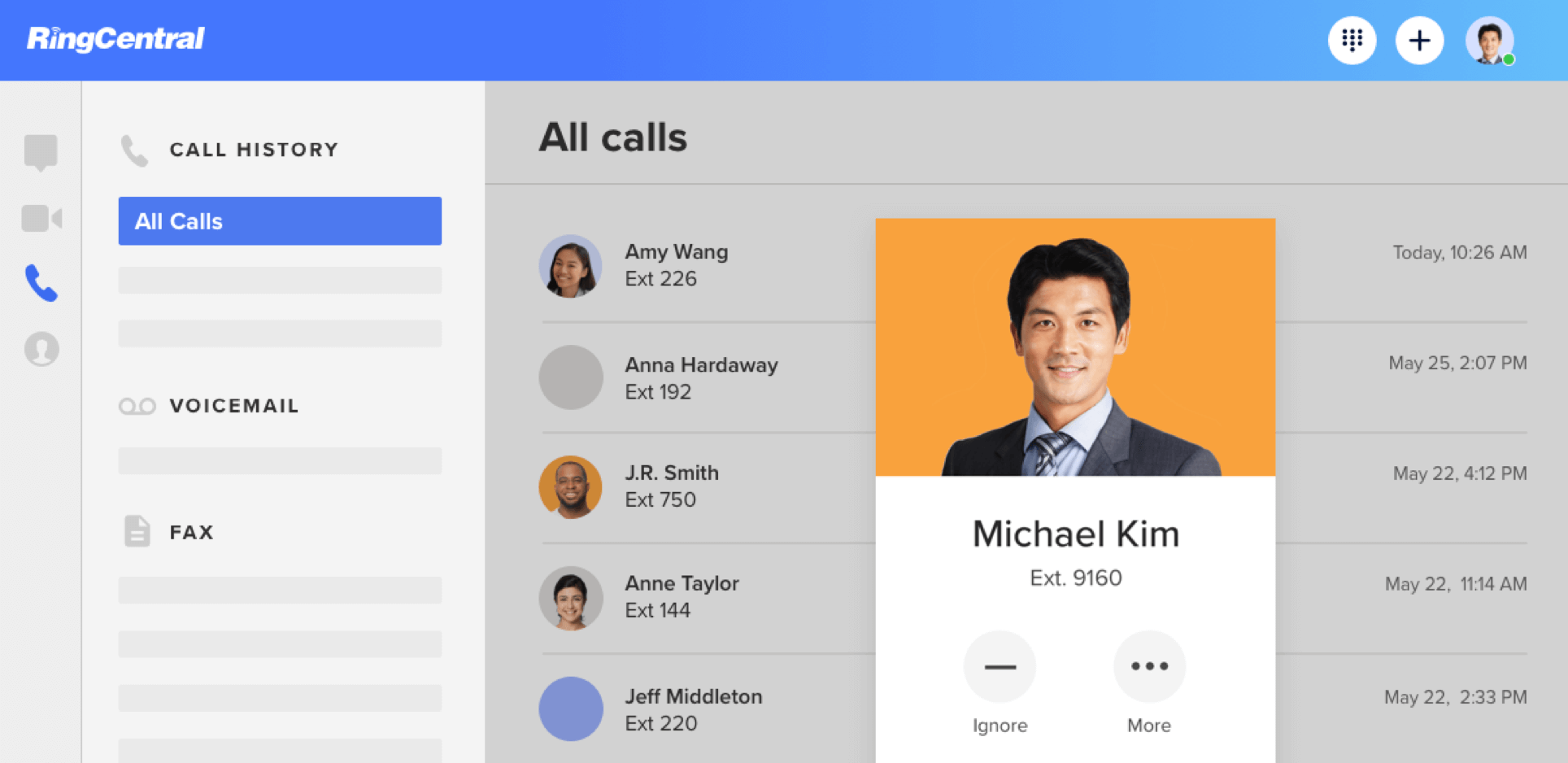 Instant messaging is not the main profile for RingCentral. First of all, it's a multifunctional VoIP phone system. Users can not only make and receive calls, but also use text messages and video conferencing for up to 100 participants. In group and personal chats users can share files and images. You can also connect third-party tools like Google Workspace for better communication.
RingCentral is available for Mac, Windows, iOS and Android.
Drawbacks of RingCentral: This messenger is not suitable for corporate use, as it lacks advanced team messaging functionality.
Mattermost
Mattermost is an open-source solution that creates a single space for team communication with easy information retrieval and the ability to export all correspondence history. It's also a help desk software that allows you to exchange messages and documents, comment on publications, create public and private channels, as well as set personal notifications for new messages and mentions of the user. You can use Mattermost from your laptop and mobile device. You can also set up push notifications about tasks and add a bot with a set of commands.
Drawbacks of Mattermost: Mattermost does not support video or audio calls.
Brosix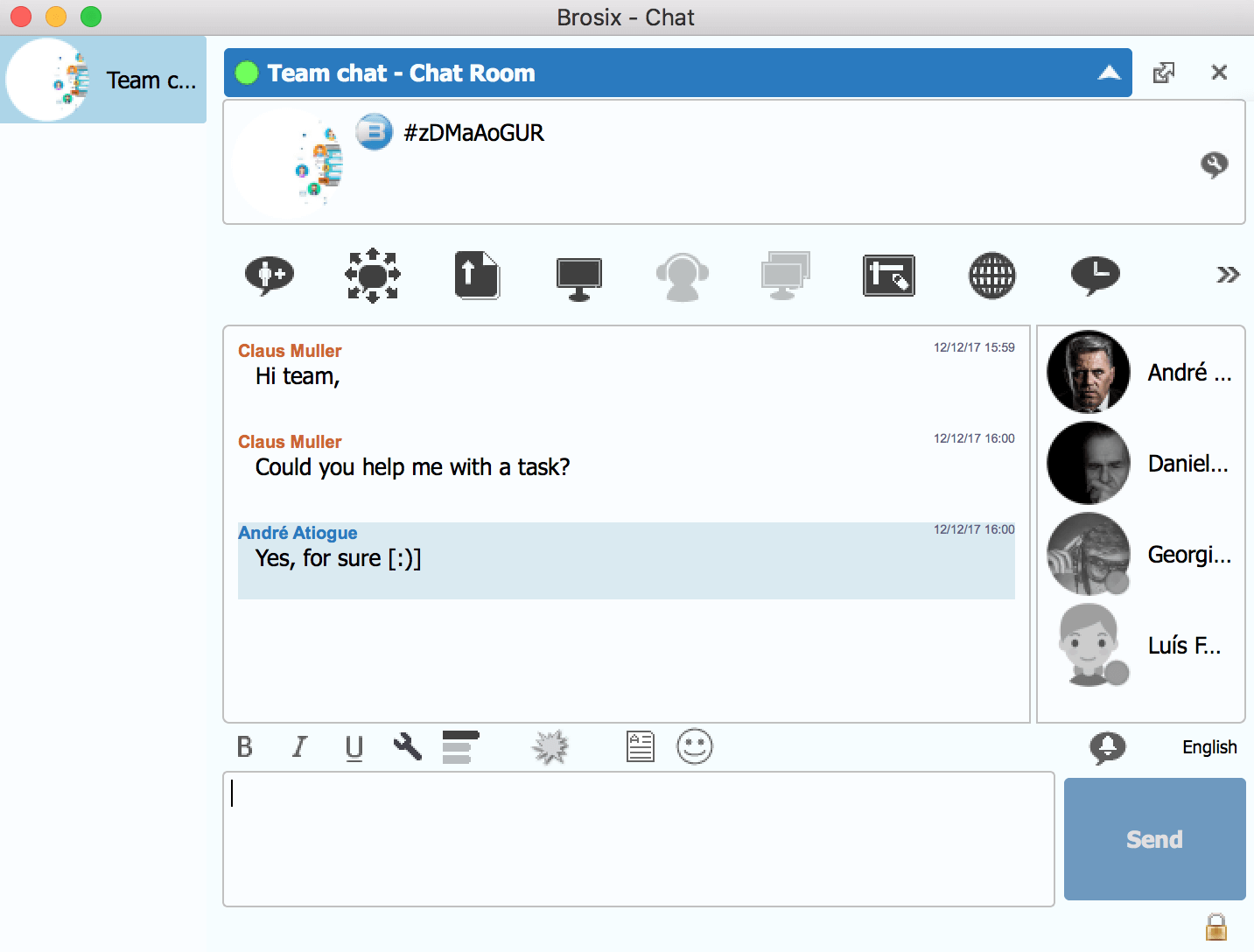 This instant messaging program is available in two versions: Brosix Personal for private use and Brosix Business for corporate use which allows you to create your own networks. In Brosix you can send text messages, make voice and video calls, take screenshots, share screen and files, and use the whiteboard feature. The full package also includes the ability to connect to external networks.
Drawbacks of Brosix: The application is quite complicated in its setup. Some users have noted that the solution inconsistently displays history and deletes some messages without request.
Ryver
Ryver is a free application for effective corporate communication and collaboration. Ryver 's key feature is the ability to turn messages into tasks and manage them with Kanban boards. Instant messaging chats and conversation chains are available individually through the Chats and Topics menus. You can also mention colleagues, view images, videos and documents in chat, make group voice and video calls for up to 50 participants.
Drawbacks of Ryver: Since 2018, Ryver does not have a Freemium version, but the vendor provides a free trial period for 14 days. Currently, in order to do video or screen share in a browser, you will be asked to install a third-party WebRTC plugin.
Ayanza
Primarily a project management app, Ayanza has a built-in Team Communication function with an intuitive, easy-to-use, and beginner-friendly user interface. You can create scheduled notes, and there is a fantastic notebook management system in place. It's a great all-in-one project management app with outstanding task and task-editing features.
Ayanza's capable chat features let users create team spaces or private groups, access public chats, and send direct messages to other users. There's also a built-in chat message editor, and the app has an excellent notification system, making it a perfect all-around chat app.
Drawbacks of Ayanza: Ayanza is primarily a project management app, and its Team Communication aspect doesn't support video or audio calls.
TrueConf
TrueConf is a secure UC and team messaging platform for enterprises and security-conscious organizations. Users can share files, documents, photos and slideshows, create personal and group chats with the ability to start a video conference with up to 1,000 participants in one click. In team chats, you can edit, reply and forward messages, as well as tag colleagues. Address book and user group navigation makes it easy to find the right contact, and your call and message history are instantly synchronized on multiple devices with your account. This self-hosted video conferencing system creates encrypted space for reliable virtual communication, both online and offline.
TrueConf is fully compatible with corporate communication systems, video conferencing equipment and third-party video communication services.
Drawbacks of TrueConf: You might need an IT specialist to set up the platform. It is also not really suitable for personal communication.
Download free version
Conclusion
More and more companies are moving to a remote format of work, where messengers are a higher priority than email or cell phones, but business emails are always useful for external communication. Business needs products that save resources and combine the basic functions: audio and video calls, file sharing, group and personal messaging, and, of course, data security. When choosing the right messenger for your company, choose safety.