Video interviewing is a process where job seekers and employers can connect and interview each other remotely, through the use of video technology. This process allows for both parties to ask and answer questions, in a more convenient and comfortable setting. Video interviewing can be used as a precursor to a face-to-face meeting, or as a way to screen candidates for a position.
In a time of global pandemic, remote interviewing is becoming standard practice for many organizations because of the significant benefits to both job seekers and employers. Virtual interviewing reduces the time it takes for large recruiting companies to find employees.
The Benefits of Video Interviewing Platform
1. Save time – The most important advantage of online interviews over face-to-face meetings is that they save time for both the recruiter and the job seeker. The video format allows HR specialists to interview several candidates for a vacancy in a short time. It is also possible to view recorded video interviews at any convenient time or share the recording with management to approve or deny a job seeker.
2. Save travel costs – Coordinating video interviews in lieu of an in-person interview can save on travel costs for out-of-town candidates. Video interviews can be used to recruit candidates from other regions, allowing companies to attract professionals with skills and experience that are more relevant to a particular vacancy.
3. Meet with several employees of the company – Sometimes an open job position is related to more than one department in a company. To avoid a multi-level interview with a representative from each department, it is possible to conduct one group interview.
Types of Video Interview
Recorded Video interview (Asynchronous)
Online Video interview (Synchronous)
The initial selection of candidates on the resume is followed by a video interview. Video interviews are recorded video answers to the questions posed and do not involve direct communication between the candidate and the HR manager.

The recruiter makes up the questions and chooses the timing for the answer. The job seeker needs to meet this time limit.The recorded video interview format is great for day-to-day recruiting and saves hiring managers a lot of time.

The online or point-to-point interview is another common interview format where the recruiter and candidate connect with each other via a real-time video call.

This type of interview is good for both sides because the time is not regulated, you can discuss work nuances in more detail, etc. At this stage, the job seeker also has the opportunity to ask questions of the employer.
Criteria for Video Interview Software
User Interface (UI): A video interview platform should be easy and intuitive to navigate for both parties.
Usability: The opportunity for easy and quick registration, download files and videos and constant technical support.
Integrations: For a video interviewing platform, compatibility with other applications such as messengers, email or Slack is very important. This will allow companies to unite different platforms and applications into a single communication network.
Best Video Interviewing Platforms
TrueConf
TrueConf Review: TrueConf offers video conferencing solutions with a huge number of collaboration tools that will create a comfortable interview environment, as well as save time and reduce financial costs of new employee searches. This is a secure self-hosted solution where all data is stored locally on the company's server, preventing the risk of leaks.
During an online interview, the candidate can show their CV or portfolio using the screen sharing function, send documents to the potential employer or present a slideshow. All interviews are recorded and stored on the server, which simplifies the decision-making process for HR managers.
Pros: The candidate can join the interview from any convenient device: PC, laptop, tablet or smartphone. In addition, the solution is compatible with other video conferencing software and room solutions, allowing interviews to be run in a hybrid format, where an HR manager or other employees can join both from meeting rooms or from their workplaces.
Cons: Setting up the solution may require the help of an IT specialist.
Download free version
How to Incorporate Video Interviewing into Your Recruitment Process
Step 1: Download and run TrueConf Server
Step 2: Register your TrueConf Server with registration key
Step 3: Create user accounts for your employees
Step 4: Download client application from your guest page and start your video interviews. Guests and applicants can join meetings from their browsers.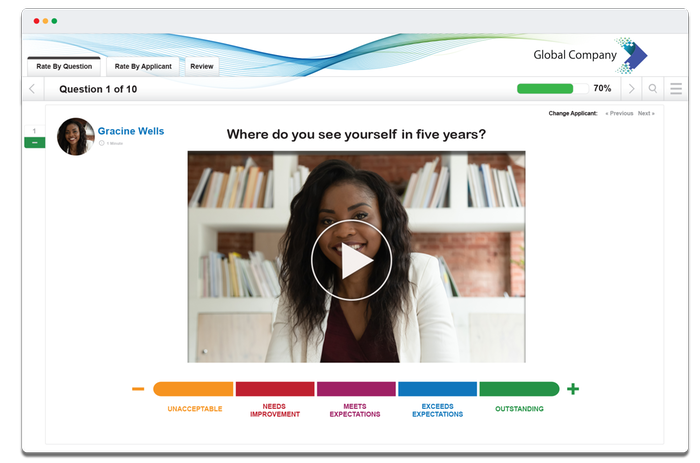 VidCruiter
VidCruiter Review: VidCruiter is an automated solution that helps companies adapt and digitize their recruiting processes. The solution integrates video, mobile and digital features into a single platform, and offers extensive customization capabilities.
You can use VidCruiter to create and implement hiring and interviewing strategies that are fully tailored to your specific needs and can be easily modified or scaled to fit changing hiring scenarios.
Pros: A significant advantage of VidCruiter is the automatic sorting of candidates and their recommendations from the most to the least suitable ones for your business.
Cons: Customers of this solution note that the lack of a training manual that would help them learn the software makes it difficult to use it.
myInterview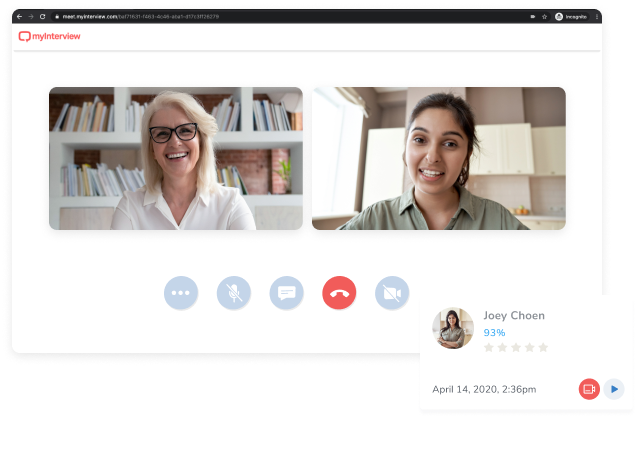 myInterview Review:MyInterview is an online job application and interview management system. It allows job seekers to create online profiles and apply for jobs, and allows employers to manage and review job applications and interviews.
MyInterview is easy to use and navigate. The profile creation process is simple and straightforward, and the system is easy to use for applying for jobs and tracking applications. The interview management system is also easy to use, and allows employers to easily review and compare job applicants.
Recruiters can interview up to 30 candidates, create different types of test questions to select them, and set and extend deadlines for interview assignments.
MyInterview also includes a built-in rating system that allows interviewers to rate candidates after interviews.
Pros: Recruiters can share a link to a candidate's video interview with stakeholders for feedback. In addition, stakeholders do not need to log in to the platform to view the video.
Cons: Video interviews are limited to two users: one interviewer and one candidate, so group interviews cannot be run.
Zoom
Zoom Review: Zoom is a video conferencing and online meeting platform that enables users to connect with others via video, audio, and screen sharing. Zoom is a cloud-based platform that does not require any downloads or installations. It can be accessed from any device with an internet connection.
The software has many additional collaboration tools, as well as group video conferencing with a 40-minute limit if you choose the free plan. Online one-on-one interviews can be run without limitation.
Zoom is used by many companies for recruitment purposes. Some of its notable users include Google, Facebook, and Amazon.
Pros: The software was created specifically for video conferencing for a large number of participants, so it has all the necessary functionality. For example, you can schedule a group video interview for a certain time, so that you don't have to remind the candidate about the beginning of the meeting. Zoom offers features such as screen sharing, video conferencing, and chat. It also integrates with other software such as Salesforce and Google Calendar.
Cons: Hacker attacks. Attackers can use fake Zoom domains to spread malware and gain access to other users' video conferences.
FAQ
What is video interviewing software?
Video interviewing software is a type of software that enables users to conduct video interviews. This software can be used to connect with interviewees located remotely, or to record and store interviews for future use.
Why use video interviewing software?
Video interviewing software is used to conduct live, video interviews with potential candidates. This software allows employers to see and hear potential candidates, and to ask them questions directly. This can be a more efficient and cost-effective way to screen candidates than conducting traditional interviews.
What do I need for my online interview?
1. Set up your webcam and microphones to make video calls.
2. Schedule a meeting at a time convenient for all participants and send a reminder with a conference link.
3. Carefully read the CV of the job seeker.
4. Prepare a list of questions for the potential employee.
5. Prepare information about the company, answers to questions about salary and social package.
6. Prepare materials for possible testing of the candidate.