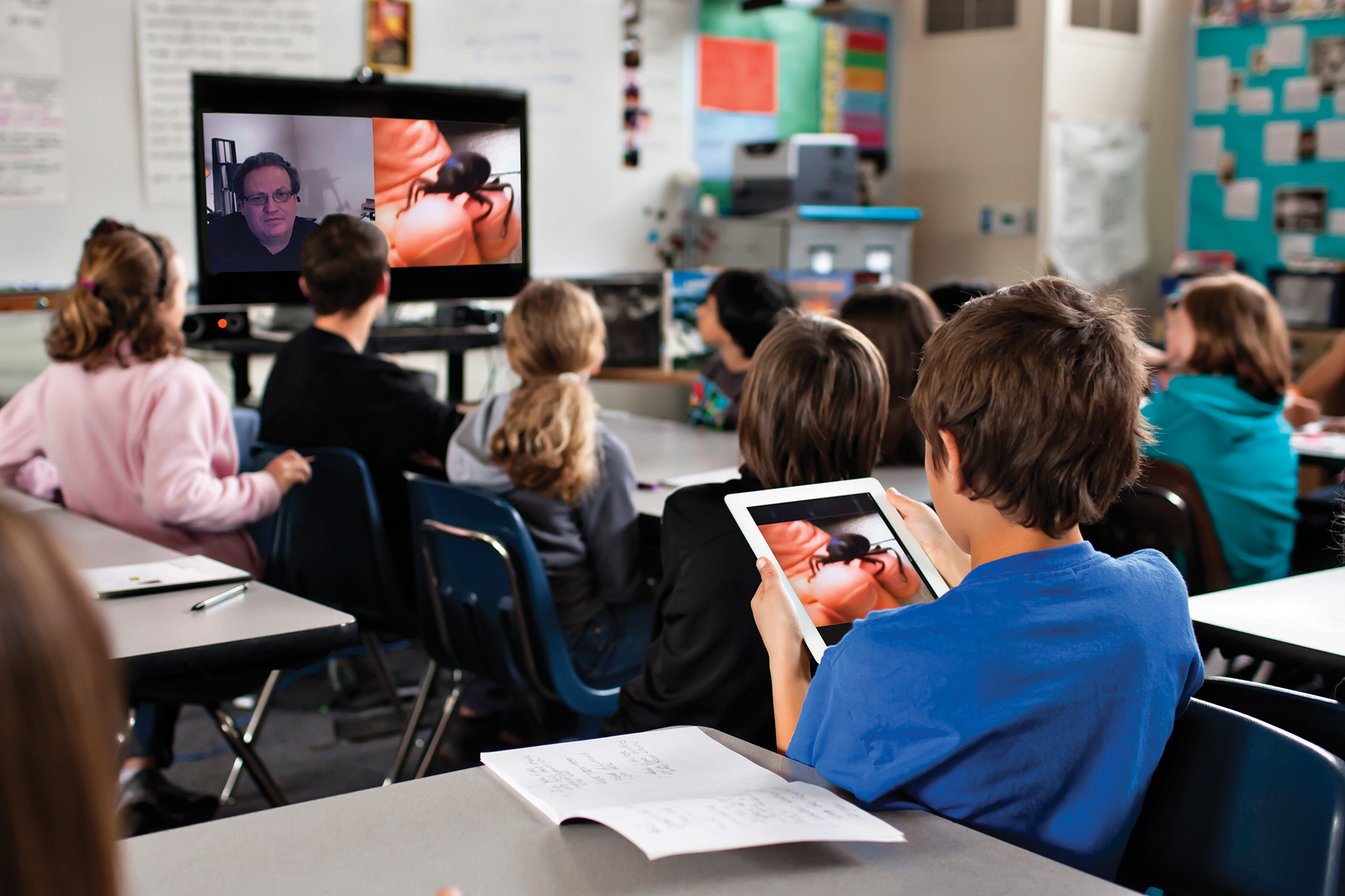 If there's one thing we've learned as we enter a new decade, it's that video conferencing has completely changed the way we communicate with each other safely and remotely.
We knew some of the benefits of online learning before, but after facing the global COVID-19 pandemic, we had no choice but to switch to a remote or hybrid format of education. Thanks to video conferencing, schools and universities can establish and maintain international ties, invite foreign teaching experts, and share experiences.
Video conferencing opens up new possibilities for learning by making it more collaborative through face-to-face communication, allowing for instant feedback and engagement. For example, a teacher can make a video tour of Africa, the Brazilian jungle, or arrange a remote meeting with an astronaut for his class.

What education needs from video conferencing tools
Video conferencing brings distance education to a new, more productive level with special features:
1. LMS integration. Teachers can schedule and launch video lectures within their Learning Management System.
2. Lesson recording. All lectures can be recorded and stored for future playback.
3. Collaboration tools. Teachers can share files and slide shows, exchange messages in chat, or share their screens with students.
4. Webinars. Conducting webinars can significantly help in attracting more students from all over the world.
5. Ease of use. Students can install and run the video conferencing software without the help of their parents or IT specialists.
6. Security and privacy. The digital learning space should not only be interactive but also secure: it is important to keep all students' personal data within the school environment.
The benefits of using video conferencing in the classroom
1.Parent-Teacher Conference
According to Child Trends, approximately 59% of parents report that they have never received phone calls from elementary school teachers. And worse, less than half report being "very satisfied" by their parent-teacher communication. Despite the academic benefits, neither parents nor teachers seem interested in communicating. However, when teachers and parents work together, they can better prepare students for academic success. Ongoing communication with teachers builds parental trust in the educational environment.
2.Video tours: Amazing adventures for a small fee
The video conference tour offers many advantages over the traditional trip. First, it's much cheaper: conference access is often free, and you don't have to worry about food or transportation. In addition, such tours do not require long planning, and can be "done" on any day. Teachers can show students various world museums, landmarks, and other wonders of our planet.
3.Bring experts into the classroom
One of the coolest things about video conferencing in the classroom is the ability to bring a variety of interesting people and professionals into the classroom. Don't be afraid to email people but if you are emailing, add your email signature which will not only provide a sense of credibility but also a personal touch.
Everyone wants to make a difference, and reaching a classroom of students to share why what they do is important may be reason enough to say yes to a video conferencing meeting.
How teachers are already using video conferencing in the classroom
One-on-one video communication. According to the EdTech data analysis, nearly 8 out of 10 video conferencing sessions were one-on-one between a teacher and a student. This can be explained by the fact that for elementary school, individual communication allows a child to build a more trusting relationship with a teacher, positively affecting the educational process in the future.
Group video communication. Poly released the results of the survey which involved 500 school and university teachers from the U.S., UK, France, Germany and Scandinavian countries. The survey showed that school teachers consider group video conferences to be the most desirable way to communicate with parents, students, and colleagues when face-to-face communication is not possible. Group conferences have proven to be a great way to teach a large group of students at the same time remotely.
4 Ways Video Conferencing for Schools Can Help the Teacher
Field trips
Field trips are a great way to educate kids while also giving them an opportunity to visit new places. However, budget constraints and scheduling difficulties have made field trips difficult to schedule.
To solve this problem, video classrooms have emerged as a new way to supplement a field trip experience by staying in the classroom while still being able to explore the museum or aquarium live through video streaming. Using an HLS player can provide students with more smooth and reliable live video streaming experiences.
Snow days and cold and flu
Some schools and universities are using a video classroom for the students to stay engaged in their lessons and continue learning during times of bad weather. This has been quite successful with teachers as it gives them more time for group work, one-on-one time with students, or even to have conferences with other staff members. It also allows parents to stay updated on what is going on in the classroom by tuning in at any time.
The online classroom also makes it easier for schools to extend teaching hours because they are not restricted by the hours that they would normally be open. This is especially helpful during days when weather conditions make it difficult for children to get outside or meet the transportation requirements that schools may have had before snow.
Online Learning for the Advanced Student
Students with exceptional skills in math, science, English, or a foreign language like Spanish are often left out of traditional K-12 schools. And this is because of the lack of specialized classes and teachers.
But now students with exceptional skills can get the help they need by taking online courses from universities and other institutions, such as Harvard online courses. Digital learning has become a great option for these advanced students because they can stay at home and still get a quality education.
Video Conferencing for Researchers
Video conferencing is becoming a major part of communication between scientists, educators, and educational institutions around the world. In the past decade, video conferencing has become more widely available and much better in terms of quality. This improvement has led to an increase in the number of instances where video conferencing is utilized for research purposes.
One example of how video conferencing is used for research purposes is clinical research. Clinical researchers use video conferencing to conduct studies across a variety of practices and populations. Educational research also utilizes video conferences as an integral part to facilitate international partnerships among academic institutions and organizations.
Conclusions
Three-quarters of teachers (77%) believe that more investment in video conferencing can have a positive impact on their students and improve the quality of education by increasing interest in the subject matter being taught. Two-thirds of respondents (67%) believe that video conference training develops key skills that can be useful in later life and work.
Teachers who work with school-age children found the greatest opportunity for video conferencing to be used as a collaboration tool (65%) and for virtual journeys (60%) – in other words, a way for them to expand the scope of familiar instructional practices.
More than half of university teachers (54%) also agreed that an important feature of video conferencing is that it gives the opportunity to communicate with authoritative experts in a particular field, and 56% see video communication as one of the means to expand the personal arsenal of educational services through the ability to teach in a distance learning mode.
TrueConf Video Conferencing Solutions for Your School
TrueConf is a self-hosted and secure video conferencing for education solution that helps to facilitate distance learning. This solution supports Ultra HD video meetings for up to 1,000 participants and a wide range of collaboration and engagement tools, such as screen sharing & slideshow, reactions, polling, instant messaging, file sharing and lessons recording.
In addition, a teacher can easily manage classroom interactions with advanced moderation controls: assign presenters, mute participants or set customized video layouts to keep students focused on learning material.
Thanks to TrueConf API, teachers can schedule and launch video lectures within their LMS, while students can always see their schedule and join meetings from any device. For schools looking to further customize their learning environments further learning environments, custom LMS software development can offer tailored solutions that meet specific educational needs.
TrueConf brings the opportunity to create and stream webinars on popular streaming platforms in order to share information and attract new audiences.
What's important, all the students' data and recorded lessons are stored locally on your own servers, which guarantees privacy of your personal data.
Besides the free version, TrueConf provides up to 50% off TrueConf Server product license for educational institutions, healthcare organizations, and nonprofits worldwide.