We are excited to roll out a firmware upgrade for TrueConf Group, a video conferencing endpoint for meeting rooms of all sizes. The version 1.0 brings a lot of new features, support for 4K video meetings, improved security and much more.
If you would like to upgrade your TrueConf Group firmware, please contact our technical support.

TrueConf Group 1.0 Webinar: Key Highlights
4K UltraHD support
We've added UltraHD support, which is now available as an optional license. With TrueConf Group, you can run 4K video calls and group conferences, receive and share 4K content, both for the primary and additional streams.

(This option is only available for TrueConf Group configuration with a built-in MCU)
New overlay layouts
TrueConf Group now offers overlay layouts. In this mode, smaller video panes overlap enlarged video window.

H.235 encryption
TrueConf Group supports H.235 encryption for H.323 connections, designed to ensure the security of your video conferencing sessions. You can choose among three encryption modes:
Disabled — encryption is disabled
Mandatory — the endpoint uses encryption and cannot connect with those users who disabled this option
Auto — encryption is preferable yet not mandatory: you can connect with other users even if they did not enable encryption.
H.235 encryption can be enabled in the control panel or with a remote control.
Ongoing meetings
Viewing all call details
The previous update allowed users to view ongoing meeting details. With TrueConf Group 1.0, you can view call details for each connected user.
Chat messages display
If TrueConf client app users send messages during a meeting, these messages will be displayed on the screen connected to the endpoint. The feature is available for both SIP and H.323 calls.

Disabled device icons
The disabled microphone and speaker icons are now displayed at the bottom of the screen.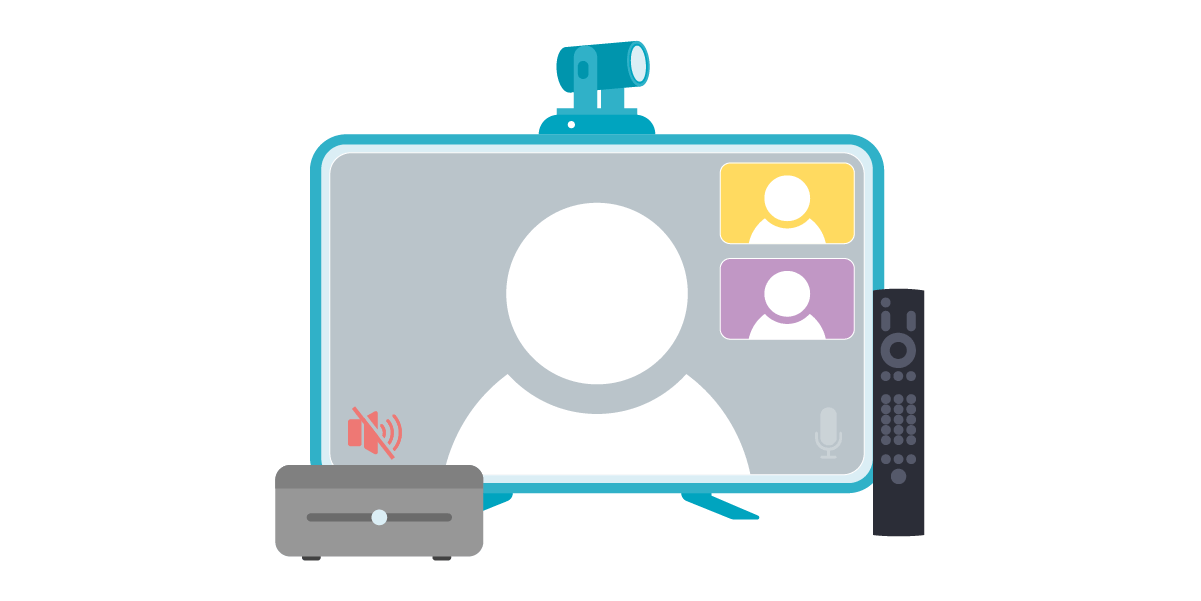 Settings menu
Setting up layouts
You can set up video layouts in the TrueConf Group control panel. Here you can:
Disable self-view in video layout
Set up volume indicators
Select scaling mode
Enable overlay layout and set the ratio
Log files
In the System Log section, you can now quickly download all log files in one archive to share with technical support department.
We've also improved the log rotation system to make sure log files are now generated daily, while you don't have to reboot your endpoint. Finally, we've optimized the algorithm to collect error notifications to ensure that you don't receive the same messages.
Unifying communication ports
The communication port ranges have been moved to the NAT submenu (NAT traversal). When restoring factory settings, they'll be reset to the default values for TrueConf Server
Sleep mode
Before switching to sleep mode, the clock will be displayed on the screen connected to TrueConf Group.
When waking up from the sleep mode, the endpoint no longer requires confirmation, which boosts communication experience.
Hardware Accelerated Rendering
The version 1.0 features a new video rendering module supporting GPU acceleration and improved performance of the endpoint powered by Intel 10th gen CPUs and built-in graphic cards.
We have also redesigned the video output subsystem to reduce CPU load when rendering multi-monitor configurations. For example, when your endpoint is running two FullHD monitors and rendering the interface, CPU load has dropped by 150% compared to previous versions. This has helped improve energy efficiency — the endpoint generates less heat.
Other features
When you choose a camera preset, the self-view temporarily appears on the screen to make sure you can take a look at the new camera position right away
Improved compatibility with Cisco Meeting Server over H.323 protocol
Improved stability for devices connected to capture cards.
Improved compatibility with Asterisk and OpenSIPS.
Improved compatibility with GnuGK H.323 gatekeeper
Improved compatibility with LDAP servers
Improved support for RTSP cameras
Improved system stability when putting a call on hold using H.323 protocol
Improved performance when sending single lost RTP video packets
Restored simultaneous operation of WAN and ICE settings
Restored use of non-standard ports when registering with a SIP server