Video banking is a type of communication between a bank employee and a customer using video conferencing technology. Trying to reduce renting spaces and waiting lines, banks in the US, Canada, China, France and countless other countries have been installing video kiosks to service their clients remotely.
The customer initiates a video call from the kiosk to a customer service representative. The representative can see and hear the customer, and the customer can see and hear the representative. The customer can use the kiosk to conduct transactions such as checking account balances, making deposits and withdrawals, and paying bills.
The kiosks differ depending on the bank and the number of features, but all of them are equipped with a video camera, a headset or a microphone and a speaker, a screen to display the manager's video window, and a video conferencing app.
The use of video banking has many benefits for both customers and banks. For customers, video banking can provide a more convenient and personal experience than traditional banking methods. They can conduct transactions from the comfort of their home or office, without having to wait in line. For banks, video banking can help reduce costs by eliminating the need to rent physical space and hire employees to staff it. It can also help improve customer service by allowing banks to provide more personal attention to their customers.
The COVID-19 effect: The future of bank branches
As the coronavirus pandemic began spreading all over the world in 2020, the need arose to eliminate all mass in-person contacts in order to prevent further contamination. The new social distancing practices insisted on moving online all interactions, including customer service. People have turned to technology not only to speak to their friends, relatives and loved ones, but to work, study, get medical attention and pay their bills. For the first time banks relied on their kiosks not to cut costs, but to keep their workflow steady and their employees and clients healthy.
"Banks have planned for years for disaster recovery if their technology failed but have never planned  for disaster recovery if their buildings closed," says Chris Skinner, leading influencer and  champion of digitalization in finance, in an article from The Economist.
Remote interaction and online collaboration technologies adopted by financial organizations worldwide have provided their staff with tools to both communicate internally and help their customers in a risk-free way.
How video banking benefits your bank
With the implementation of IT services and video banking, the mobility of bank managers has improved greatly – they no longer have to be always in the office to be able to do their job. They can take calls from customers from home or on the go; they don't have to worry about being late to work, as the traditional office hours may now be switched to a schedule set individually with each employee.
Video banking is a huge advantage for bank owners who wish to expand, but are not sure whether the new branch would be a success. A video kiosk would require less investment than an actual branch office, but the service with a live manager and the ability to complete transactions online will absolutely allow you to attract customers and occupy your niche on the local market.
Another advantage of online banking is an unmistakable boost in customer experience. As long as you install your kiosks in well-chosen areas and have enough employees online, your clients wouldn't need to waste time getting there and waiting in long lines to make a transaction or to get an account statement. Customers appreciate care and attention to details, as well as a personal approach, which would picture you in a far better light than your competitors.
Video banking – short-lived trend or critical to digital transformation?
For financial institutions there are even more reasons to incorporate video conferencing into their routines. Video-enabled customer servicing sessions allow some brands to stand out among others, "make their brand name and logo design popular" to provide better service as well as build even more trust. Now that we've seen and experienced all the advantages of the video banking organizations can implement even more technologies and communication channels into their work for further benefit and optimization. Branches can even combine regular offices and kiosks for better management of customer flow in particularly challenging areas. The success of videos comes from the visual appeals, the friendly fonts used and the hooking images.
In the end, the verdict is still out on whether or not video banking is a critical piece of the digital transformation puzzle for organizations, but it's certainly looking like a very promising trend.
Best technology and software for video banking
POPi/o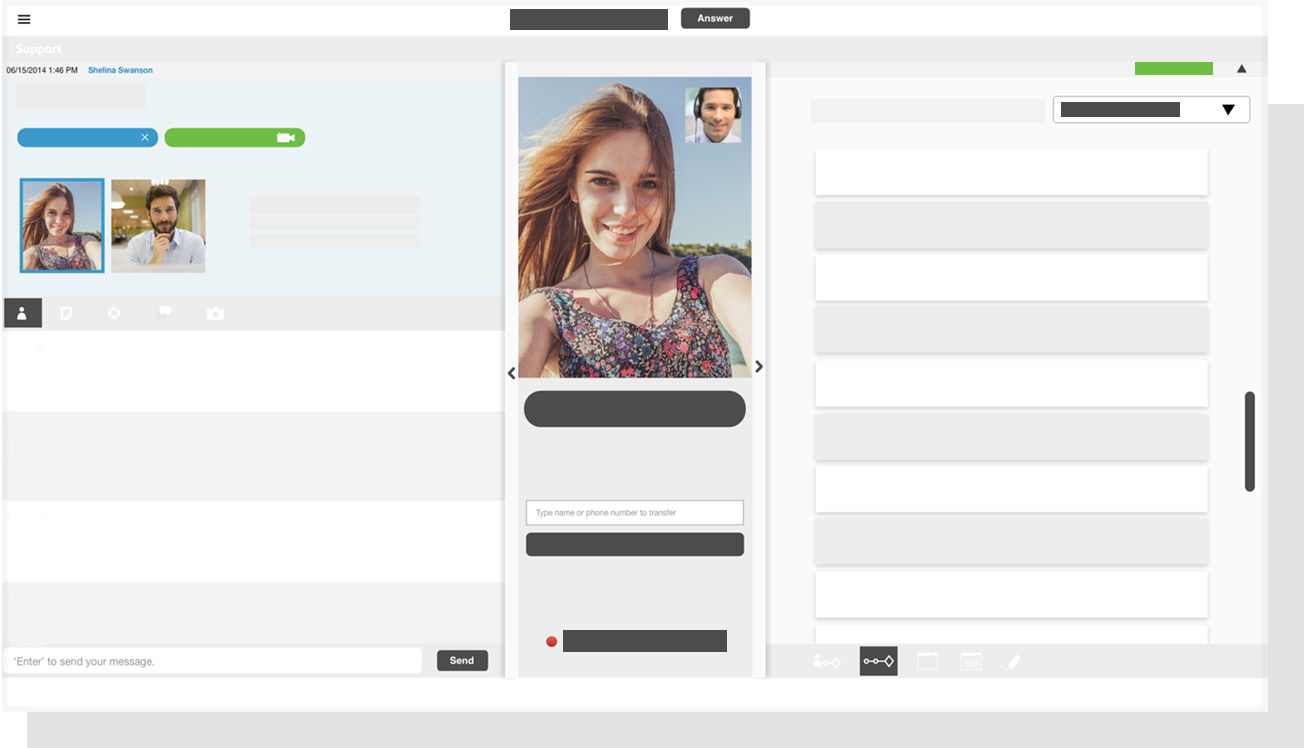 POPi/o is a platform that helps financial institutions interact with customers in the digital world. With the POPi/o solution, credit unions can deploy mobile, intra-branch and online video banking channels. The application is easy enough to install and allows users to perform tasks such as opening accounts, paying and receiving loans, and signing documents.
Financial institutions can implement POPi/o with its app-like interface via single or dual monitors for a comfortable video calling experience both for customer and employee. POPi/o's video banking solutions allow users to make video calls to their banker, send them push notifications when they visit the branch, and use the mobile app in an in-store kiosk. The virtual branch also provides customers with remote access to their accounts using POPi/o Digital Customer technology, allowing financial institution employees to provide remote support to customers.
TrueConf

TrueConf offers both ready-to-use customer service solutions like TrueConf Kiosk and SDKs for creating a personalized version and embedding video conferencing into existing apps.
TrueConf offers a wide range of video banking tools and allows customers to receive professional assistance and financial services regardless of their location. Users can share documents and screen, make video calls in 4K resolution, and record video calls. As TrueConf runs on the client's own server, the risk of losing sensitive data is minimized. It suits financial structures, where security comes first.
TrueConf Kiosk is ready-to-use software for customer service applications and call center integration that brings improved customer care and allows white-labeling. TrueConf SDK allows you to extend the functionality of TrueConf Kiosk by adding extra features to the application according to user requirements. TrueConf SDK can be used not only for video kiosks and contact centers, but also for telemedicine or distance learning systems and applications for Windows, Android or iOS. With a wide range of tools, users can integrate video conferencing into any existing application or create a completely new solution with additional white label capabilities.
Glia
Glia's video banking provides personalized and qualified customer service remotely. Glia users have access to messaging, document sharing, voice and video chats in real time. With Glia's AI, companies can identify valuable website visitors or create chatbots. Chatbots allow bots to communicate with people or with other bots according to set scenarios. Glia scans customer chat sessions and provides suggested answers or prompts to customer service agents. The application does not provide a free or trial version.
JRNI

JRNI is an enterprise platform for customer interaction. The solution helps banks, insurance companies and other financial institutions plan and organize in-person and remote meetings, events and queuing management. For example, customers can join and wait in virtual queues from any device or or automatically update customer queue status information with email or text notifications.
The JRNI analytics tool helps to get valuable insights from the data, making it easy to track revenue and conversions, and optimize the CX. Other apps such as CRM software, payment, and calendar can be seamlessly integrated into this cloud-based platform.
LiveBank
LiveBank is an intelligent banking platform used to communicate instantly and securely through digital channels for customers. This virtual branch allows banks to interact with the customer with dynamic offers and real-time online assistance through video and voice calls, live chat, screen sharing, secure file sharing, digital registration and document signing. LiveBank also offers a convenient login function using Quick-ID (secret code) and Touch-ID (fingerprint). Unfortunately, LiveBank does not have a free version.
Conclusion
In many cases, a local full-service bank branch can only be reached by public transport; hence, the availability of video banking services in large neighborhoods can provide customers with access to banking services when the ability to travel long distances from home is limited. Video terminals can act as a great addition to a bank branch.